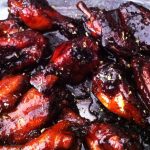 Prep Time: 4h 00 min
Cook Time: 30 minutes
Print
Balsamic Chicken Wings
Instructions
Separate the tip from the drumstick by cutting the chicken wings in between the joints.
Transfer the chicken to a large sealable plastic bag.
In a bowl, mix together the remaining ingredients. Pour half of the marinade into the bag with the chicken, squeeze out most of the air, and seal tightly. Shake the bag gently to distribute the sauce evenly. Refrigerate for at least 4 hours.
Preheat oven at 350 F
In a large pan on medium heat, sear the chicken wings for about 3 minutes, until golden brown. Continue cooking in the oven for about 30 minutes turning them often to avoid burning. Add the remaining marinade to the pan. On stovetop, continue cooking until the sauce is thick and coats the chicken wings evenly.
Serve chicken wings on a platter and garnish with lemon zest.
Add to Favourites