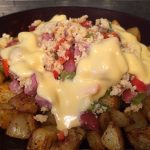 Prep Time: 45 minutes
Cook Time: 1h 30 min
Print
Breakfast Pan Scrambler
This is one of my all-time favourite breakfasts! And if you're anything like me, you won't be able to get enough once you pile it high with fresh tomatoes.
Instructions
For the potatoes:
Clean the potatoes, and dice into small pieces
Put into a bowl and add 2 cp ice cubes and top with water until potatoes are just covered; soak for 30 minutes
Drain and pat dry
In a plastic bag, add spices and potatoes and shake until potatoes are coated
Add oil and shake until all potatoes are cooked
Line a cookie sheet with waxed paper and bake potatoes 450 degrees for approx 30 minutes until soft inside when poked with a fork.
For the Filling: 
Heat a skillet and add oil
Add diced veggies and sausage and saute until softened
Mix together eggs and yogurt and add to the pan, mixing continuously to scamble the eggs with the veggies
Remove from heat once the eggs are cooked
For the Cheese Topping: 
Melt the butter, remove pan from heat and add the flour, blending together before returning to the heat
Add salt and milk and cook until milk starts to thicken
Add cheese and stir until melted
Add a dash of white pepper and  drizzle over the potatoes and veggie/egg mix
Add to Favourites