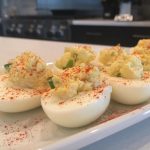 Deviled Eggs
Stick them in the fridge and have one or two throughout the day. Excellent for giving you an energy boost or tying you over until dinner.
Instructions
Hard-boiled or steamed eggs
Once steamed, remove the shell and slice the egg in half length-wise
Pop out the yolk of each into a bowl and set the egg whites facing up, onto a plate
Add to the yolk yoghurt, dijon and green onion, chopped really small.
Mash together the yolk mixture until creamy (add a little more yoghurt if you need to), and use to fill the egg white centres.
Sprinkle with paprika (I like smoked paprika - has a mesquite flavour), and chill.
(2 whole eggs: Red = 1.25)
I am including the container values for my own reference (and anyone else wanting to do this)... but keep in mind, these are my recipes and not provided by or approved by or associated with, or anything else 'with', the 21 Day Fix. In fact, it may be a little generous at times, or ingredients may be different based on what we like to eat. It's meant to be a guide.
Add to Favourites