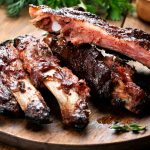 Yield: 4
Prep Time: 60 minutes
Cook Time: 15 minutes
Print
Honey Garlic Ribs
Instructions
Prepare your ribs:
Cut your ribs into portions and boil for 40-60 minutes - the longer you boil, the more tender they will be
Make your sauce:
Combine sugar, 1/3 cup of water, honey, molasses salt, lemon juice, and garlic in a saucepan. Heat to a boil, stirring well to dissolve and combine ingredients. Once mixture boils, turn heat down and simmer for 5 minutes.
Whisk corn starch into remaining 1/3 cup of water, add to saucepan. Stir until well incorporated and mixture starts to thicken. Remove from heat.
Grill the ribs:
In a deep frying pan, heat the sauce to a gentle boil; boil 3 minutes
Add the ribs to the sauce and coat; continue turning and coating the ribs until the sauce has caramelized and the ribs are rich and dark in colour
Grill ribs just long enough to crisp the sauce
Sauce recipe and instructions from http://www.celebrationgeneration.com/
Add to Favourites