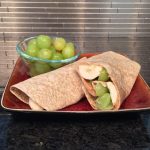 Yield: 1
Prep Time: 5 minutes
Print
Peanut Butter Banana Wraps
Grabbed this one from my hubby's personal trainer. Was a little skeptical, but you have to try! Delish!
Instructions
Spread nut butter over center of wrap
Dice grapes and place them on the peanut butter
Slice banana length-wize and place onto the wrap
Wrap close, slice in half and serve
(Purple = 2, Yellow = 1, Tsp = 2)
I am including the container values for my own reference (and anyone else wanting to do this)... but keep in mind, these are my recipes and not provided by or approved by or associated with, or anything else 'with', the 21 Day Fix. In fact, it may be a little generous at times, or ingredients may be different based on what we like to eat. It's meant to be a guide.
Add to Favourites