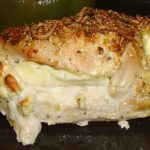 Yield: 2
Prep Time: 10 minutes
Cook Time: 60 minutes
Print
Nutrition facts

(per portion)
Nutrition facts
(per portion)
Calories: 478.4
Carbohydrate Content: 3 G
Cholesterol Content: 181.7
Fat Content: 20.3
Protein Content: 67.3
Saturated Fat Content: 10.4
Sodium Content: 1188.1 MG
Sugar Content: 1.6 G
Roasted Feta- Stuffed Chicken Breasts
Make sure you buy feta in a block, not crumbled. It is much easier - and less messy - to stuff the chicken with a slice of cheese than the smaller crumbles.
Instructions
Preheat the oven to 400°F. Oil a 9 x 13-inch baking dish.
In a shallow bowl or pie pan, stir together the Parmesan and grill seasoning. Set aside. Cut the block of feta into 4 slices.
Place a chicken breast on a cutting board. Using a sharp paring knife, cut a horizontal pocket into the fat side of the breast, starting 1/2 inch down from the wide end of the breast and stopping 1/2 inch short of the narrow tip. Repeat for the remaining chicken breasts.
Place 1 slice of feta into each pocket, pressing it in firmly. Season each chicken breast lightly with salt and pepper. Dredge the stuffed chicken breasts in the seasoned Parmesan, making sure to coat the chicken thoroughly. Place the coated breasts in the baking dish.
In a small bowl, whisk together the lemon juice and olive oil. Drizzle evenly over the chicken breasts. Bake for 1 hour, basting with the cooking juices every 15 minutes, or until the chicken is cooked though and has a golden brown, crisped crust. Serve hot.
Add to Favourites