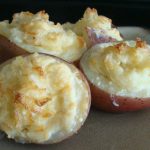 Prep Time: 15 minutes
Cook Time: 10 minutes
Print
Stuffed Potatoes
Instructions
Preheat the oven to 375°F. Spray a baking sheet with cooking spray and set aside. Place the potatoes on a large microwaveable plate and cover with a damp paper towel. Microwave on high power for 5 minutes. Carefully turn the potatoes and microwave for 5 minutes longer, or until a fork can be inserted easily. Let stand for 5 minutes.
When the potatoes are cool enough to handle, halve them lengthwise. With a spoon, scoop out most of the insides, leaving enough potato flesh to keep the skins intact. Place the skins on the prepared baking sheet and the scooped potato into a large bowl. Add the milk, cheese, butter, bacon bits, and salt to the scooped potato and stir well to combine, then spoon equal amounts back into the skins.
Bake for 10 minutes, or until the potatoes are heated through and the cheese is melted.
Add to Favourites