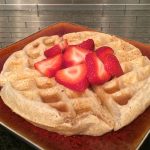 Yield: 4
Prep Time: 30 minutes
Cook Time: 35 minutes
Print
Nutrition facts

(per portion)
Nutrition facts
(per portion)
Calories: 415
Carbohydrate Content: 45
Fat Content: 2.5
Protein Content: 41
Sweet Potato Waffle
A light breakfast just packed with all kinds of veggie goodness!
Instructions
Clean, peel and dice the sweet potato and steam until cooked (approx 20-25 minutes)
Add potato and remainder of ingredients into a blender
After blending, pour mixture into a waffle maker, heat and serve. (Can be served with 1 tbp sugar free syrup)
Modified from original recipe in Somanabolic Cooking.
Add to Favourites