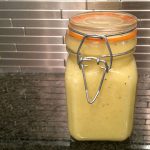 Prep Time: 15 minutes
Cook Time: 2h 00 min
Print
Homemade Mayo
Yes, you heard correct! A natural way to make your own… and it works! Â From Fat Burning Breakfasts, by Nick Pineault, "The Nutrition Nerd"
Instructions
Combine the eggs, mustard, lemon juice, salt and pepper in your blender
With the blender or food processor running on a low speed, start adding your oils very slowly. Start out with drops and then work up to about a 1/16 inch stream.
all of the oil is added, continue to mix on low for at least 5 minutes – although it's ok if it goes a little longer
in your refrigerator to thicken. Store in an airtight container for up to two weeks.
Add to Favourites