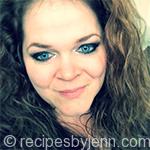 My name is Jennifer, or – Jenni from the Block if you join me at Karaoke some night (don't ask me how I got that, or why it seems to stick!). My interest in recipes started innocently enough… In my past, I never cooked at all… well, actually, I cooked what came in boxes and whatever required the simple addition of a little preserved meat or sauce. That's it! I was more into baking… it was what I grew up with, and it just became 'my thing'…
It was at a little lunch bistro in Las Vegas that I'd frequent for lunch, specifically for their potato salad, when I finally found my inspiration.
With great embarrassment and trepidation, I asked the waiter for my first official cookbook – Wolfgang Puck Makes It Easy. I brought it home, reserved some quiet time to flip through it… no potato salad recipe! But, I did find something else – much more valuable… a curiosity for flavours, and techniques and a general desire to be creative. Could it be that these amazing dishes were really as simple as he made it look?
Well, turned out – they were!! I think I made almost every recipe in the book! And after making Chardonney Chicken twice in one week (lol), I figured perhaps it was time I tried to venture out and find more.
So I did. And a collection formed. And since I develop/manage websites as our day job, it was a natural transition for me to keep my recipes on a site that I could easily access from my kitchen, or even share with friends.
Over time, I became more confident, and learned more about flavours and pairing – so much that I could start experimenting with my own recipes. But my favourite on this entire journey has been finding my favourite dishes out there and trying to modify them into healthier alternatives. It has changed my life – no longer stuck in our boxed foods ;o)
I am very grateful to all of the blogs and recipes site, Twitter followers and generally great people who so generously share all of their own tips and tools. It's like a little food family out there that I am happy to be a part of!
So if you find a recipe on here that you like, please share it. But most importantly, make it your own!
(Oh, and for those of you curious, YES I did find Wolfgang's potato salad recipe, and it was everything we knew and more!)
"No one is born a great cook… one learns by doing." ~ Julia Child