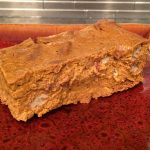 Yield: 1 9x9 pan
Prep Time: 1h 20 min
Cook Time: 24h 00 min
Print
Nutrition facts

(per portion)
Nutrition facts
(per portion)
Calories: 239
Carbohydrate Content: 15
Fat Content: 11
Protein Content: 20
Nancy's Pumpkin Cheesecake
A healthy pumpkin cheesecake?? You betcha!!
Instructions
Preheat oven to 325 F
Spray a 9×9 cake pan with olive oil spray
Whip eggs in a bowl, then add cottage cheese and blend until creamy. Add molasses, milk and vanilla blend. Add pumpkin one can at a time and blend.
Add all dry ingredients except nuts and blend.
Lastly, add nuts and blend until crushed or completely incorporated.
Pour into pan and bake 80 minutes, rotating pan half way through; The cheesecake will have cracks across the top – this is normal.
Cool fully and cover with plastic wrap. Keep in the fridge overnight (must sit at least overnight)
Modified from Southside Conditioning Club.
Add to Favourites