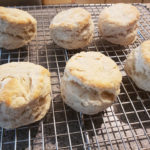 Yield: 4
Prep Time: 6 minutes
Cook Time: 10 minutes
Print
Perfect Breakfast Biscuits
J.P.'s Big Daddy Biscuits
Yup - you read that right! That's the original name of these bad boys, and thanks to my bestie, I snagged a photographed version of the recipe to test and share and eat, eat, eat!
I've tried a variety of recipes for biscuits over the years, but this is the quickest, and more delish, rising every time! Serve warm with melted butter, or heat up in the microwave once they've cooled (if they last that long!).
Instructions
Preheat oven to 425 degrees F
In a large bowl, sift together flour, baking powder, salt and sugar
Cut in the shortening until crumbly, and slowly add milk using a hand mixer
Once blended, roll out onto a lightly flour-dusted piece of parchment paper and roll dough to about 1" thick
Use a large glass or biscuit cutter to make 6 jumbo biscuits
Bake until they start to become slightly golden (as seen in the photo) - approx 10-11 minutes
Serve warm with butter!
Add to Favourites