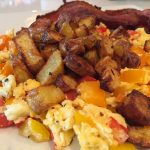 Prep Time: 5 minutes
Cook Time: 20 minutes
Print
Breakfast Scrambler
If you're like me, breakfasts are one of those things that I'm either really inspired and motivated for... or I could care less and it's a drive to Timmy's for a tea and bagel (although we really try less of the latter).
Lately, however, I have been thinking of ways to make hearty breakfasts that I could make extras of for Hubby when he gets up (which is often later than me), or even leftovers that can be wrapped and frozen if I wanted. But of course, in all of that, we try to make healthy choices when we can (because we have been snacking on things like these and this these past couple of weeks!).
So - this one is inspired by all of you breakfast wrap folks out there... feel free to come and wrap up some of your goodies for me!!
Start by preheating your oven to 400°F. Chop your potatoes small and bite-sized, and place them into a big baggie with a sprinkle of sea salt, black pepper, paprika and garlic powder. Drizzle a little evoo in there and toss the bag around to evenly distribute your spices over the 'tatoes.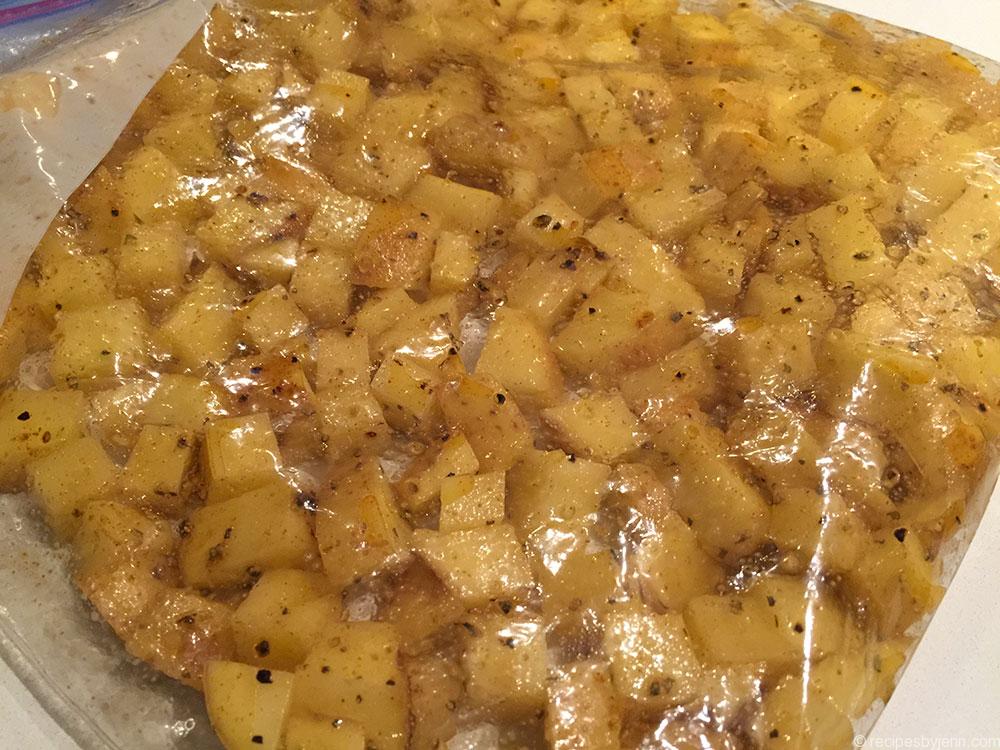 Now you might think that stove top hashbrowns are easier/quicker... but instead of having to stand over the stove to keep them from burning, I put these on a sprayed cookie sheet and into the oven for 20 minutes - enough time to switch the laundry, feed the dog, or splash on makeup (if that takes you 10 minutes like me) before you need to start the eggs up.
About 10 minutes into your baking potatoes, start the eggs and bacon/meat of choice. For the eggs, I like to add in peppers. Here's where my mornings are even easier - when you buy your peppers, buy them in bulk, chop them up and freeze them in portions in the freezer. When you thaw them, they are soft, but that's perfect for frying up in dishes that require them to be soft anyway.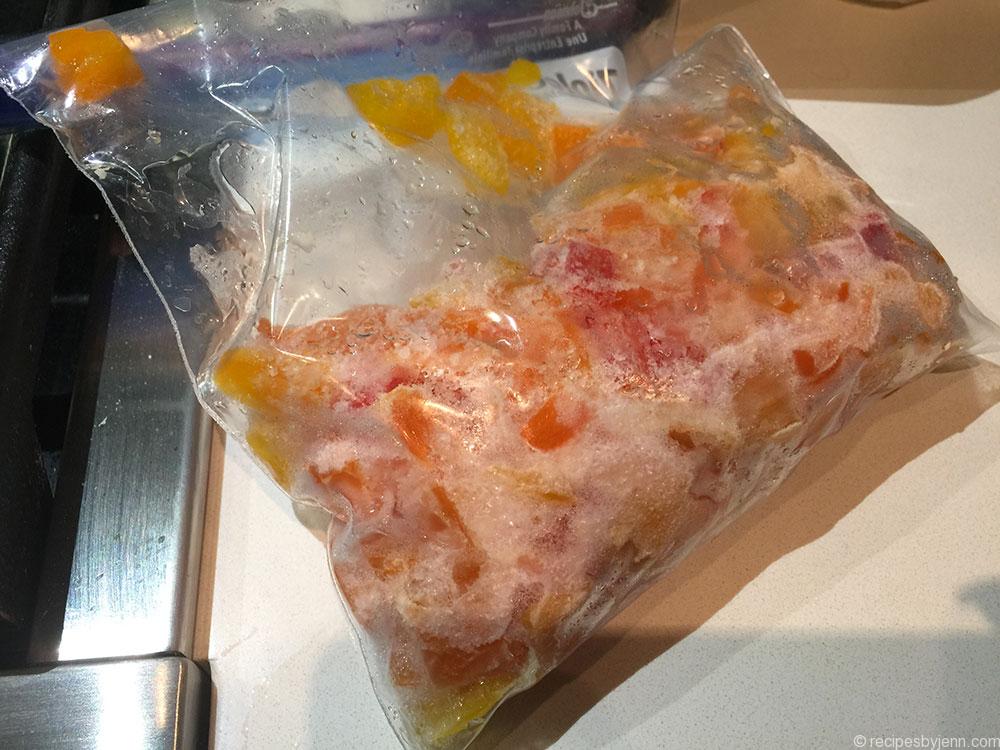 (Yes - these were a little freezer burned, but you would never tell!) Fry up with a little evoo, salt, pepper and garlic powder until the moisture is all gone...
And then add in your eggs and cheddar cheese...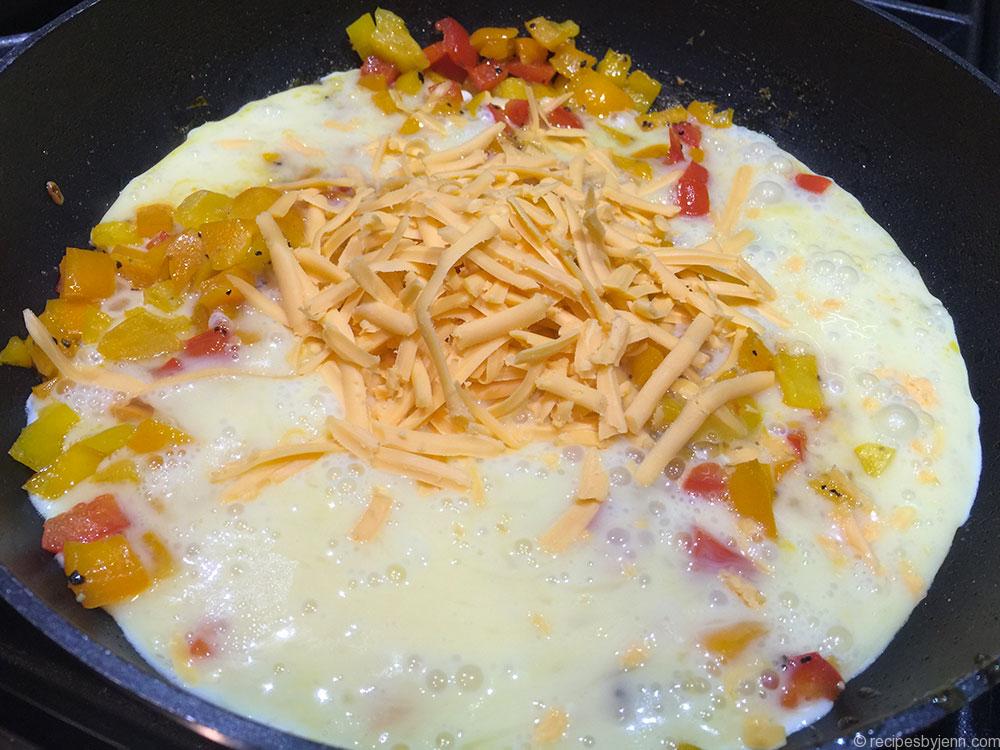 Stir those and cook until everything is all done and blended together...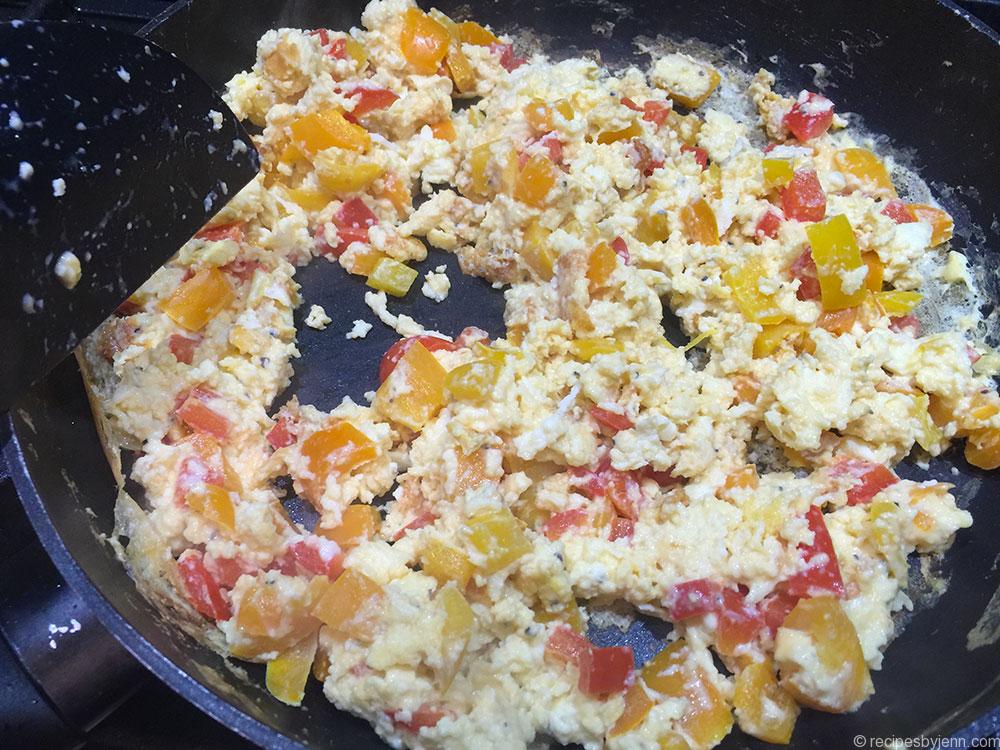 Then serve it up with your bacon! Done! No kidding, this is super awesome for a breakfast dish and you don't need a lot to be quite filling. It'll definitely get you through the day!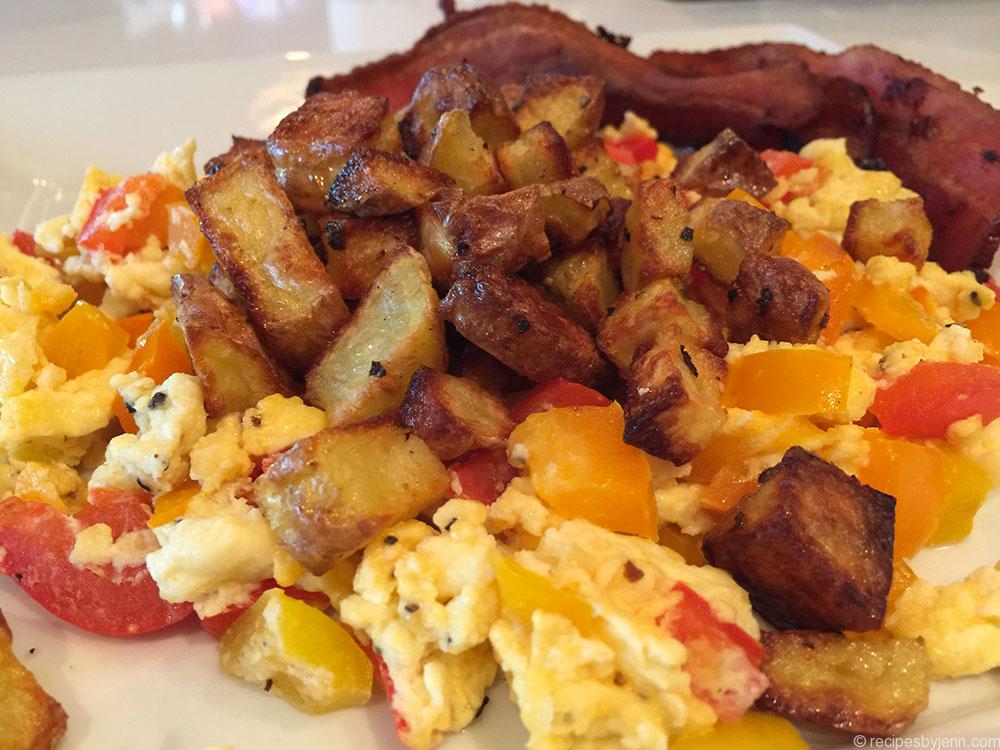 ---
When you make your own, don't forget to take a photo and share it online at Facebook, Twitter or Instagram with the hashtag #recipesbyjenn and by tagging @recipesbyjenn. That way, I can see your photos and share them with all my friends! Plus, I get to feature them on this site along with all my other photos!
Instructions
Preheat your oven to 400°F.
Chop your potatoes small and place them into a large baggie. Sprinkle with spices and drizzle with evoo. Please into a sprayed cookie sheet and bake 20 minutes.
About 10 minutes before the potatoes are done, put on your bacon to cook, and in a separate pan, drizzle a little evoo and saute your peppers. When soft and dry, add in your eggs and cheese, stirring until fully cooked.
Serve eggs with potatoes and bacon, or what your portions in an ancient grain wrap and save for later.
(Green = 1, Red = 2, Yellow = 1, Blue = 1)
I am including the container values for my own reference (and anyone else wanting to do this)... but keep in mind, these are my recipes and not provided by or approved by or associated with, or anything else 'with', the 21 Day Fix. In fact, it may be a little generous at times, or ingredients may be different based on what we like to eat. It's meant to be a guide.
Add to Favourites