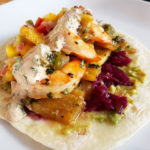 Yield: 4
Prep Time: 5 minutes
Cook Time: 10 minutes
Print
Shrimp Tacos
à la James...
Summery, bright and bold - my wife is all of these things! So when she commissioned me for lunch, I thought I'd try to tie these characteristics into a shrimp taco!
Luckily, my fridge and I are quite a team. It happens to have random stuff that demands to be eaten. I have a uncanny ability to combine said things into food that my wife loves! (and also her friends… lest ya'll think it just be bias!!)
So - here's the scoop on this simple, satisfying shrimp taco!!
The construction:
First, we gotta work backwards from the result. That's how I do a lot of my inventive cooking which is startlingly successful!
What you'll end up with is a warm tortilla shell, with a schmere of guac. Then, 2 or 3 shrimp, a few slices of pineapple and bell pepper, a little salsa (mango salsa if possible) and my uber simple baja tartar sauce drizzled on top!
That's the finish line!
How did we get there? So glad you asked!!
Here we go:
First, get your shrimp together man!! That is, get a pack of med to large prawns. Uncooked. I got a bag of 14-20 frozen and worked good.
Next, shell them. I fill the bag with room temp water and they only need a few minutes to thaw enough to peel them completely. No tails here! Set them in a bowl and let them think about their decisions.
Cut a inch-ish slice of pineapple and cut the peel off completely. Cut the slice into thin strips. The middle ones will be too large so feel free to half or even 1/3rds them.
Finally, get some bell pepper chopped up. I happened to have some on hand so I just grabbed a small handful of them. Red, yellow, green, orange… isn't gonna matter so whatever you have, works.
Get a good-sized frying pan hot over med high with some olive oil. Once hot, throw in the pineapple pieces and bell pepper. Throw in a bit of salt and a lot of pepper and let them cook, moving them around every few minutes. The salt will draw juice out so you'll notice more and more liquid. That's good… that's flavor country folks!!
Move the pineapple to the outside of the pan, bring it to medium heat and lay your shrimp in the middle.
IMPORTANT: DON'T SALT THEM. I know you wanna, but it will pull moisture out the shrimp (just like the pineapple) and make them rubbery and tiny. But, feel free to sprinkle with cumin, onion and or garlic powder. Just… go easy. Shrimp have a nice flavor, but is kinda shy. It's easy to over-flavor and lose the shrimp.
Once you start seeing red/pink along the bottom of the shrimp, its ready to flip. They cook FAST! Give them a few min and then gently move them around with the pineapple and peppers. Lid the pot, drop to medium-low and leave them to suck up the pineapple and pepper.
Make a little guac-ish-amole a la james henry special;
~ guac-ish-amole is basically a smashed avocado with 2 or 3 cherry tomatoes… or 1 small roma, depending what I have on hand… a bit of onion (or powder), possibly garlic (or powder), a good dash lemon or lime juice, and a healthy pinch of salt and pepper, and a spoon of whatever else seems Mexican-ish in hand! Seared corn? Yup! Mango salsa? Sure! Maracas? Well, no. they are in fact not edible. But whatever I end up with is mashed to a puree In my trusty mortar and pestle!
Hardly traditional, but traditionally trustworthy!!
(Of course, if you prefer a traditional guac, Jenni has a great one here >)
Finally, make some Baja tartar! (Note: this is hardly a tartar sauce and I have no authority by which I deem it Baja. But it is science - those silent J's in food words make them sound cooler, so imma do it. Baja tartar.)
Basically, its 3 parts mayo to 1 part chipotle hot sauce. A bunch (2-3 parts) of chopped parsley. Then a tiny splash of salsa, or diced fresh veggies, or… know what? Just stick close to salsa or veggies. (And I DO mean a tiny splash; this isn't bruschetta!)
Mix, believe, and taste... then, adjust if you need to. That's it!
Schmere them tortillas (warm for 15 second in microwave) with some guac-ish, lay out 2-3 shrimps with pineapple between, little salsa in there along side the meat train, and drizzle the Baja tartar overtop and Ole'!!
(Oh, and if you're really adventurous, put a little pickled red cabbage on there - super good for you!)
Cheers!
Instructions
Thaw and peel your shrimp (see article above)
Heat large pan over medium-high heat and drizzle olive oil; add pineapple and peppers to the pan and saute with salt and pepper until they start to juice; remove from heat
Add shrimp and cook until they start to turn pink; turn and add the pineapple and peppers back to the pan
Remove from heat and serve with Mango (or other) salsa, and Guacamole
(Green = 0.25, Purple = 0.25, Red = 1, Yellow = 1.25, Blue = 0.5)
Based on using 3 tbs mango salsa, 1 tbs guacamole per tortilla
I am including the container values for my own reference (and anyone else wanting to do this)... but keep in mind, these are my recipes and not provided by or approved by or associated with, or anything else 'with', the 21 Day Fix. In fact, it may be a little generous at times, or ingredients may be different based on what we like to eat. It's meant to be a guide.
Add to Favourites