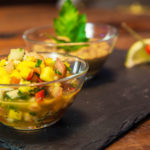 Yield: 4
Prep Time: 60 minutes
Print
Scratch Mango Salsa
à la James...
The heart and soul of Mango salsa isn't actually the mango. Sure, it's obviously not a mango salsa without mangoes.
But you need a baseline of flavors to hold up the tropical Mango glorious-ness!!! The heart is… wait for it… onion and acid!
Basically, the biggest thing is to get the acid on the onions first, and for the longest. It mellows them out by breaking down the bite-y onion essence. At the Italian market right by our house, there's these DIVINE fruit puree vinegars. I prefer pear or peach. But ultimately, whatever - there's no wrong answer!
One note to remember - citrus is an awesome flavor in this concoction… but the added lemon and lime juice are also acids so don't overdue it.
Basically I line it up like this (I freehand pretty much all my cooking, so don't sweat being "pretty close". That is, If your "med
onion" is a little bigger than mine, its all gonna be OK. Just breathe. 😉 )
1 Med Onion (1 cup-ish) red or white, depends what you have/prefer; diced pretty small.
2 med mango (1 cup-ish) Peel mangoes with a cup*, diced fairly small (like the size of a dime or so)
1 generous dash (about 1.5 tablespoon lime/lemon juice)
1/2-ish cups pineapple (optional) also cut up like dime sized.
1 regular red bell pepper diced really small.**
small handful of Cherry tomatoes, quartered
2.5 tbs-ish of vinegar / fruit vinegar in any ratio you think will taste good.
Garlic powder, salt, and pepper. Start with about 2 tsp each and then add to taste.
* Want a seriously easy way to peel mangoes? Check out this video >
** If you like heat, totally optional - half to one hot pepper (jalapeno, Serrano, …. heck, Reaper if you like IMMEDIATELY REGRETTING YOUR DECISIONS!! As with all peppers, de-seed and core to ease off the heat). 
That's the bones. There's room in there for Cilantro, bell peppers, parsley, seared corn, beans, sprouts… um… lucky charms I suppose? But for real, if that's where you are in your life you may need to rethink some of your decisions LOL. But whatever you like, go nuts! Just remember… its easier to add a bit, 3 times, 'til it's right, than to try to pull an ingredient out of salsa.
How:
So, dice up your onion (I like red, but that's me) and get some acid on it! Hit it with the vinegar and the citrus. Next tomatoes, then pineapple. Stir and add the salt and spices. Bell pepper next, and then mango and hot pepper, if you swing that way.
Finally whatever else you got. And remember to stir every couple ingredients to keep the liquids mingling with the veggies to meld the flavor.
Adjustments:
If you don't like the sweet sour so much, ease off on the vinegar douse on the front end. Now, hear me out - you've gotta have some or you'll legit have a mouthful of raw onion and mango. But like we discussed, its WAY easier to add slowly than to try to get it back out. TRUST ME.
Finally, let this salsa breathe! Take your time chopping. The longer the onion and the vinegar have some facetime, the better. And in the end… its Mango, onion, joy, and citrus. You're going to win.
Cheers!
Instructions
Dice your onion small and add to a bowl with the vinegar and lime juice; mix thoroughly
Add salt, pepper and spices, mixing well
Dice and add mangoes, pineapple and peppers, stirring after each one
Garnish with fresh parsley, finely chopped
Allow the salsa to break covered in the fridge for about an hour before serving
Serve as a dip, or garnish with chicken, pork or fish.
Can be stored in the fridge and used for leftovers.
(Green = 0.75, Purple = 0.5)
I am including the container values for my own reference (and anyone else wanting to do this)... but keep in mind, these are my recipes and not provided by or approved by or associated with, or anything else 'with', the 21 Day Fix. In fact, it may be a little generous at times, or ingredients may be different based on what we like to eat. It's meant to be a guide.
Add to Favourites