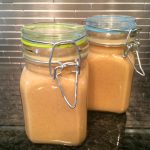 Yield: 2 jars
Prep Time: 5 minutes
Cook Time: 30 minutes
Print
Toasted Sesame Sauce
Oh yes… sesame sauce… hmmmmmmmm……. As I sit here, type and salivate, let me recommend this amazing little sauce for anything from plain - rice, stirfrys, spring or salad rolls, steak, chicken… - you name it! Keep sesame seeds on hand! You never now when you are gonna get a craving!
Instructions
Heat a non-stick pan on medium and add 1/2 cp sesame seeds. Toast for about five minutes, shaking the pan frequently so they don't burn.
Add seeds to a blender. Add 3/4 cp reduced sodium organic soy sauce, 1/2 cp onion, 1 clove garlic. Blend for about 30 seconds.
Add 1 cp olive oil, 1/2 cp 0% fat plain Greek yoghurt, 1/2 tbs ground mustard powder and one egg yolk; blend on high until smooth (about 30-45 seconds).
Keeps for about 2 weeks in the fridge or until the yoghurt/milk is set to expire.
Add to Favourites