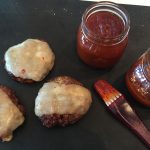 Yield: 2 cups
Prep Time: 5 minutes
Cook Time: 15 minutes
Print
BBQ Sauce
Extremely versatile BBQ sauce with a touch of sweetness! I started making this as a one-time deal… but once you've enjoyed a couple of jars of this, it's really hard to go back to the store-bought bottles.
Instructions
Gather all of your ingredients together in little dishes, already measured out – 'cause once you start adding them in, you are not going to want to stop stirring to measure!
In a large pot, melt half of the butter on medium heat.
Add the onions and sweat until the onions are translucent, 3 minutes.
Add the chili powder, garlic salt and paprika, and saute for 2 minutes.
Add the ketchup, molasses, honey, mustard, vinegar and Worcestershire sauce.
Bring the sauce to a boil then reduce to a simmer and cook for 5 to 10 minutes, stirring frequently.
Add the remaining butter and sprinkle with salt and pepper to taste (before salt, you will have a very bitter taste – use the salt to balance it out to your liking).
Recipe by Robert Irvine, The Food Network
Add to Favourites