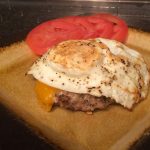 Yield: 4
Prep Time: 10 minutes
Cook Time: 15 minutes
Print
Turkey Breakfast Sausage
You won't believe that this flavour comes from spices alone… but yup! A keeper!
So… recently, Tim Horton's has been advertising their turkey breakfast sausage sandwich all over the TV, and if you have read anything about how I started cooking in the first place, it would not surprise you to hear that my husband quickly suggested I try to make a healthy version.
Not surprisingly, I could not find a copycat recipe for the Timmy's version, however there are lots of great sausage recipes out there. This one I found on allrecipes.com, and with the helpful tips of the reviewers, modified the recipe to this version. Any good, you ask? Let's just say it was enough to rouse a sleeping giant early in the morning at our house ;o)
Instructions
Mix all ingredients together
Form into 4 patties
Grill until cooked through
You can top with anything you like. I used 1/2 oz low milk fat cheddar and a single poached egg with tomato slices. Delish!
Add to Favourites