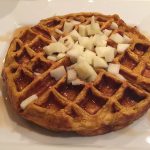 Yield: 1
Prep Time: 5 minutes
Cook Time: 10 minutes
Print
Pumpkin Waffles
I love me some pumpkin! And what better time to get started on doing a few healthy pumpkin recipes than in the Fall?! Especially since it's the season of obsessive pumpkin commercials (lattes this, and muffins that). Come on, people! How can we fight that?!
But if you've been following some of my posts, or reading my meal plans, you'll know that I'm crazy for my bacon and eggs, like, 90% of my mornings! If I'm going to venture off the beaten path, it's gotta be good!
Most healthy waffle and pancake recipes out there fall a little flat - flimsy, if you would. Ok, if you're going for that light sorta thing - but, if you're like me, they have to be fluffy, filling and not taste like I'm eating air.
Well, search no more! Have I got the solution for you! Give this one a try... it's going to give you the full waffle experience, without any overpowering flavour - giving you lots of room to be creative with your toppings.
Start out - very important! - with pumpkin puree. NOT pumpkin pie filling. You don't want to end up with the refined sugars and preservative chemicals added to the pie filling. Keep it clean.
Next, get out your handy dandy chopper (What?! You don't have one yet?! Seriously.... get that on your Christmas list! You have just enough time left to start being nice to people so that Santa can get you on the nice list!!)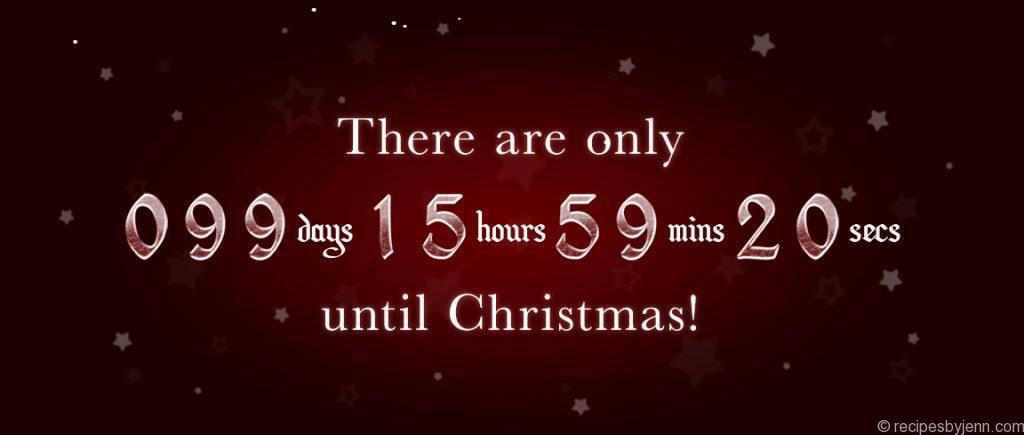 (But if Santa's been a little unreliable lately, or if you're not sure you can get on that list in time, then go ahead and order your own right now... then have waffles next weekend for breakfast!)
Add your oats to your chopper and grind into a flour. Now - and here's the real reason I use my chopper almost every single day - add all of the rest of the ingredients together and blend completely (look how quick and easy that was!).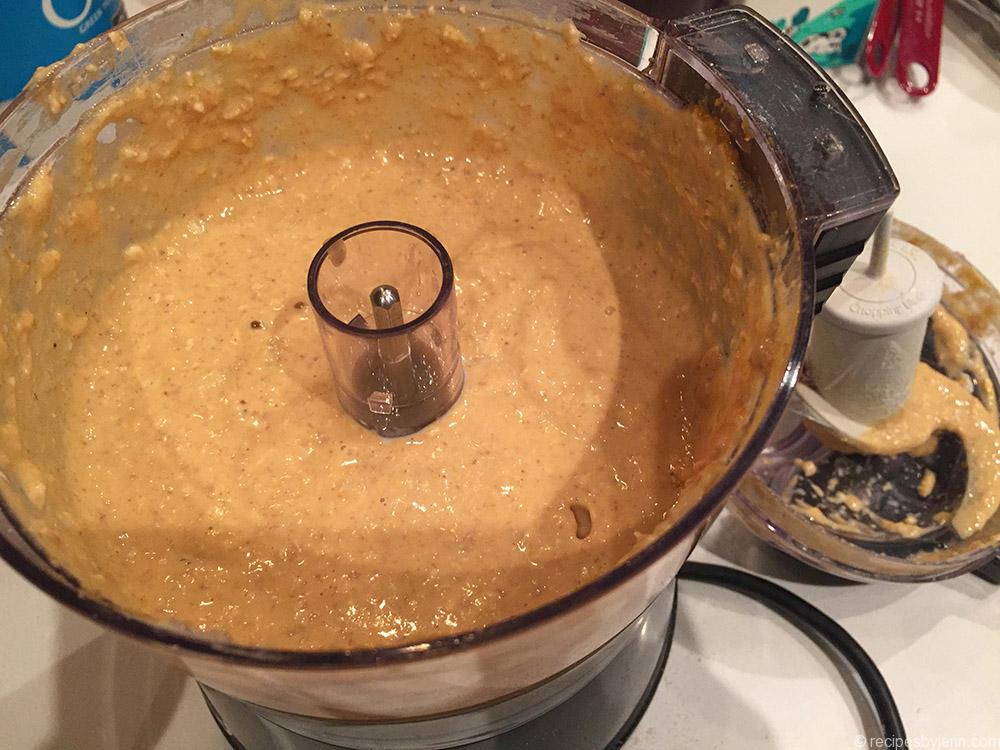 Now, here's where you can switch it up. You can do plain old pancakes, if that's your thing, or you can be lazy like me creative and fancy and use your waffle iron to create a wonderfully fluffy waffle. (Don't have one of those yet either?! Good God! We need to sit and have a serious chat, you and I... your mornings will be positively transformed with one of these. Keep on top of healthy eating with breakfast omelets in, like 2 seconds every day! Here's mine... omelet on one side, waffle on the other.)
Just remember to spray your iron with an olive oil cooking spray - it will help the waffles to pop right out!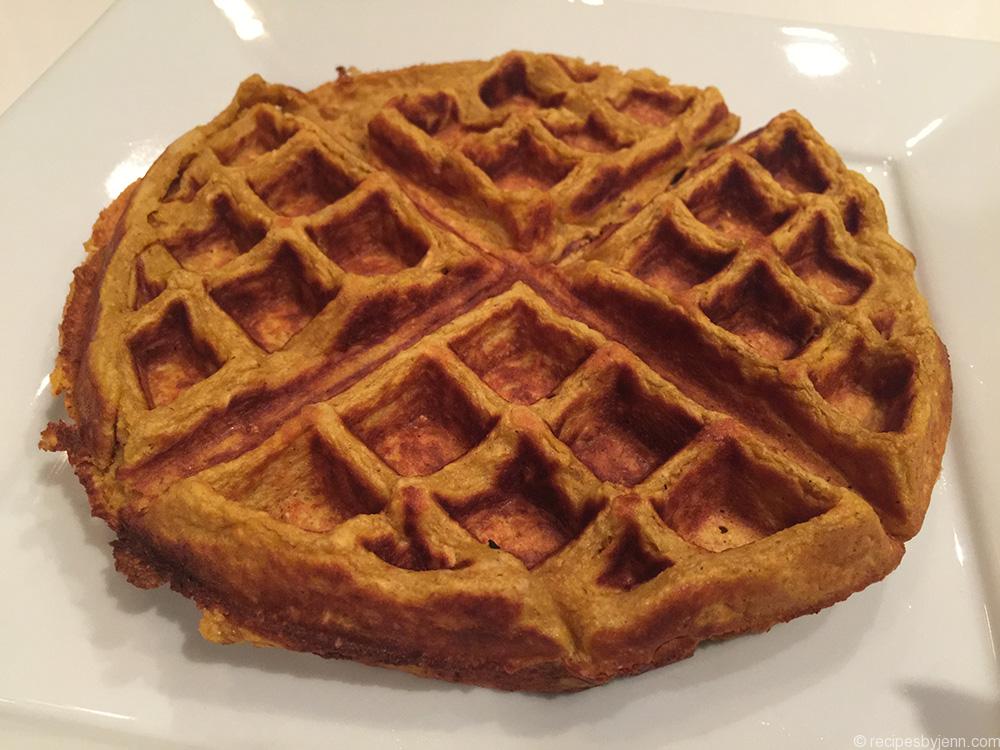 Then go ahead, add your serving of fruit (I diced some apple for the top of mine) and drizzle with a little maple syrup. Voila! The flavour is so good - not over powering at all... and, not pumpkin pie! (We save that for later ;o)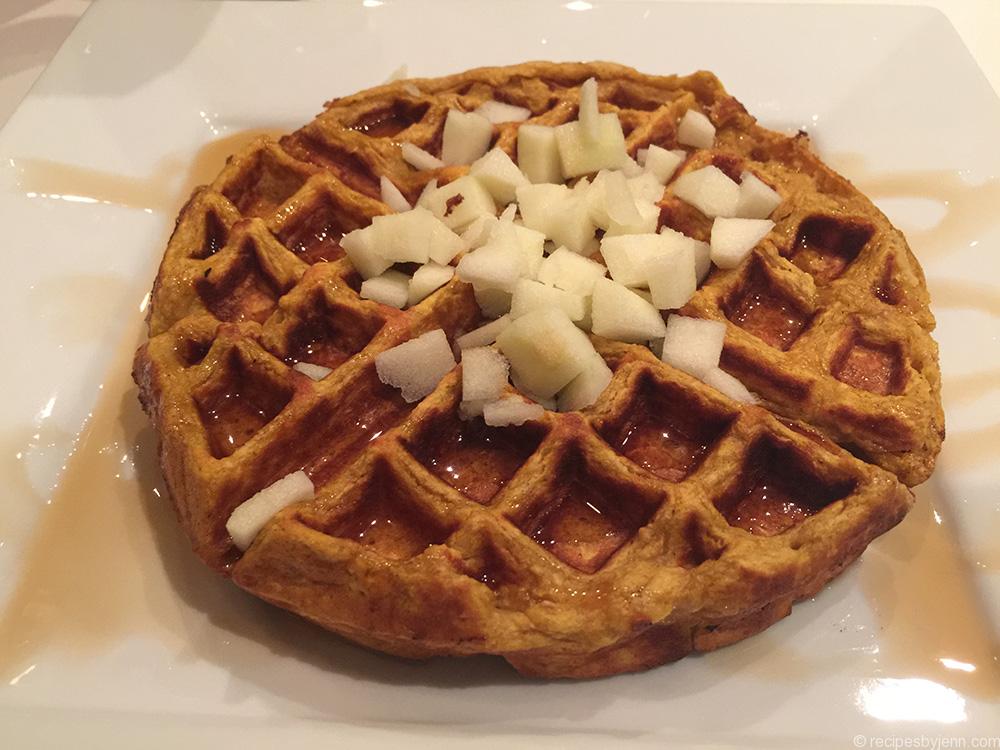 ---
Anytime is a good time for waffles! And when you make your own, don't forget to take a photo and share it online at Facebook, Twitter or Instagram with the hashtag #recipesbyjenn and by tagging @recipesbyjenn. That way, I can see your photos and share them with all my friends! Plus, I get to feature them on this site along with all my other photos!
Instructions
Put your oats into your chopper and grind to a flour
Add all other waffle ingredients and puree until completely blended together
Spoon mixture into a heated and sprayed waffle iron or skillet for pancakes and cook until done
Garnish with a side of fruit and maple syrup
(Purple = 1.5, Red = 1, Yellow = 1.5, Blue = 0.5)
I am including the container values for my own reference (and anyone else wanting to do this)... but keep in mind, these are my recipes and not provided by or approved by or associated with, or anything else 'with', the 21 Day Fix. In fact, it may be a little generous at times, or ingredients may be different based on what we like to eat. It's meant to be a guide.
Add to Favourites