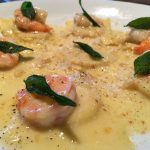 Prep Time: 30 minutes
Cook Time: 45-60 minutes
Print
Butternut Squash Ravioli
Another amazing ravioli dish! This copycat is for the dish at The Cactus Club. You can make with traditional dough or use the recipe linked below. And if you're really adventurous, try with gluten free pasta dough ;o)
The original recipe uses truffle oil, however I prefer to make mine with walnut oil for its health benefits. Either taste amazing!
Instructions
Make your pasta dough; set aside for the required 30 minutes
Filling:Preheat oven to 400 degrees. Peel and chop the butternut squash, drizzle with olive oil and season with salt and pepper. Roast at 400 degrees for 30 minutes. Sauté onions and garlic in a little olive oil until soft. Place squash in food processor with garlic, onion, nutmeg and mascarpone cheese. Puree until smooth. Season with salt and pepper to taste
Make the ravioli:Beat 1 egg with 1 tablespoon of water to make an egg wash. Dust the counter and sheet of dough with flour, lay out the long sheet of pasta, and brush the top surface with the egg wash, which acts as a glue. Drop tablespoons of your favorite filling on 1/2 of the pasta sheet, about 2-inches apart. Fold the other 1/2 over the filling like a blanket. With a pasta cup or your fingers, gently press out air pockets around each mound of filling. Use a sharp knife to cut each pillow into squares and crimp the 4 edges with the tins of a fork to make a tight seal. Dust the ravioli and a sheet pan with flour to prevent the pasta from sticking and lay them out to dry slightly while assembling the rest. Cook the ravioli in plenty of boiling salted water for 4 minutes; they'll float to the top when ready, so be careful not to overcrowd the pot. Lift the ravioli from water with a large strainer or slotted spoon. Keep hot in a covered dish. Drizzling with a little butter or oil will prevent them from sticking to one another.
Make the Sauce: Combine the vinegar and white wine in a saucepan on medium heat; reduce by half. Add yoghurt and blend well. Reduce heat to low and whisk in butter, one cube at a time until blended. Add walnut oil, sprinkling of dried sage leaves and mascarpone cheese and allow to thicken.
Garnish: Saute the prawns in about 1 tsp of butter, 1 to 2 minutes per side, until they are pink. Melt the remaining butter in a pan. Add the sage leaves and fry till crispy. Arrange raviolis on a dinner plate that has a slight indentation. Pour the sauce over the raviolis so that the raviolis rest in a bed of sauce.
Add to Favourites