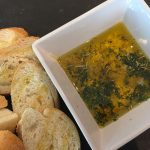 Prep Time: 5 minutes
Cook Time: 5 minutes
Print
Oil & Vinegar For Dipping
Whenever we visit an Italian restaurant, one of the highlights for me is how they serve their oil and vinegar bread dip. Everyone, it seems, has a different way of doing it. And depending on the flavours baked into the bread they serve, there may be lots of flavours in the oil mix, or just plain and simple evoo and balsamic vinegar.
I love doing toasted french baguette with any and all of my little pickies... it's nice and crispy on the outside and soft on the inside. This simply bread also allows me to play around with the flavours in the oil dip, and in a fit of wanna-be-an-Italian-for-a-day frenzie one day when I could not get the pasta into my mouth quick enough, this little gem was born!
Enjoy!
Instructions
Toast your baguette:
Preheat your oven to 350
Arrange your baguette on a baking sheet and drizzle with evoo
Place toast on the top shelf in your oven for about 5 minutes. You are not looking for it to necessarily brown, but just crisp a little
Make your oil:
Combine all ingredients except oil, vinegar and parm in a dish and mix together
Gently pour in your oil
Drizzle your vinegar
Sprinkle with cheese
Let it sit for a couple of minutes before serving so that the flavours start to blend into the oil. Dip your bread and enjoy!
Add to Favourites