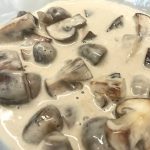 Prep Time: 2 minutes
Cook Time: 10 minutes
Print
Creamed Mushrooms
Well, as most of you know, my background has deep root in the Irish traditions and foods from the Maritimes. Quite different from the traditional foods of most people in the Wild Wild West (mostly because our dishes were mostly fish, potatoes and moose meat! lol).
But when I move to the West, I was exposed to so many more flavours and tastes that I just had never heard of before.
This one seriously could not be more easy to make. Seriously. Melt some button. Gently fry some quartered mushrooms. Add cream. Boil until it turns a little yellow. Sprinkle with a little salt. Done.
The portions here are for 2 people, so eyeball it as you need to. It's hard to mess it up 🙂
Instructions
Melt the butter in a frying pan
Add mushrooms and saute until slightly browned
Add cream and cook on low-medium heat for approx 8-10 minutes; cream will med-fast bubble and start to turn yellow
Remove from the heat, sprinkle with a little sea salt and let sit in a serving dish for a few minutes for the salt to flavour everything; serve
Add to Favourites