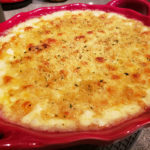 Prep Time: 30 minutes
Cook Time: 20 minutes
Print
Lobster Mac & Cheese
We recently  had the pleasure of travelling off to the coast for a few days... and if there's anywhere to find fresh seafood... it's at the coast! After an amazingly inspiring dinner at one of our favourite Japanese restaurants (the lobster part), and INSANELY good room service one night (the mac part)... I came home with a craving! And that craving gave birth to this little gem - lobster mac and cheese. Woah.
I bought two frozen lobster tails (and they weren't huge, cause let's face it, that stuff's expensive!) and was somehow able to make 4 servings - which in our house means two were used that night, and two were to be frozen for another day. I had to vacuum seal them pretty quickly though, or else they would have been devoured too!
I used personal-sized baking dishes, and for the two that were used, into the oven to bake. For the other two, after putting into the dish but BEFORE baking, I used my Food Saver vacuum sealer to lock them in tight once they cooled a little. The next time I need a quick side, pop them out of the freezer, thaw and bake!
Don't be intimidated by the length of the instructions! Read them in advance and the whole thing probably only takes about 30 minutes to prep for the oven. I've just broken them down into lots of steps so nothing gets missed 🙂 Enjoy!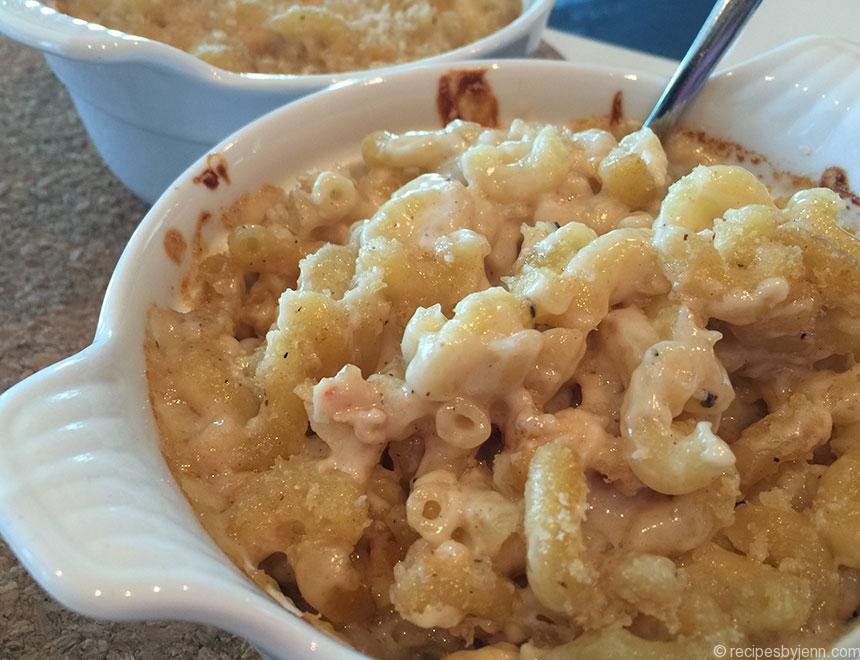 2019 Deliciousness... Made this again for dinner guests last night, and it did not disappoint!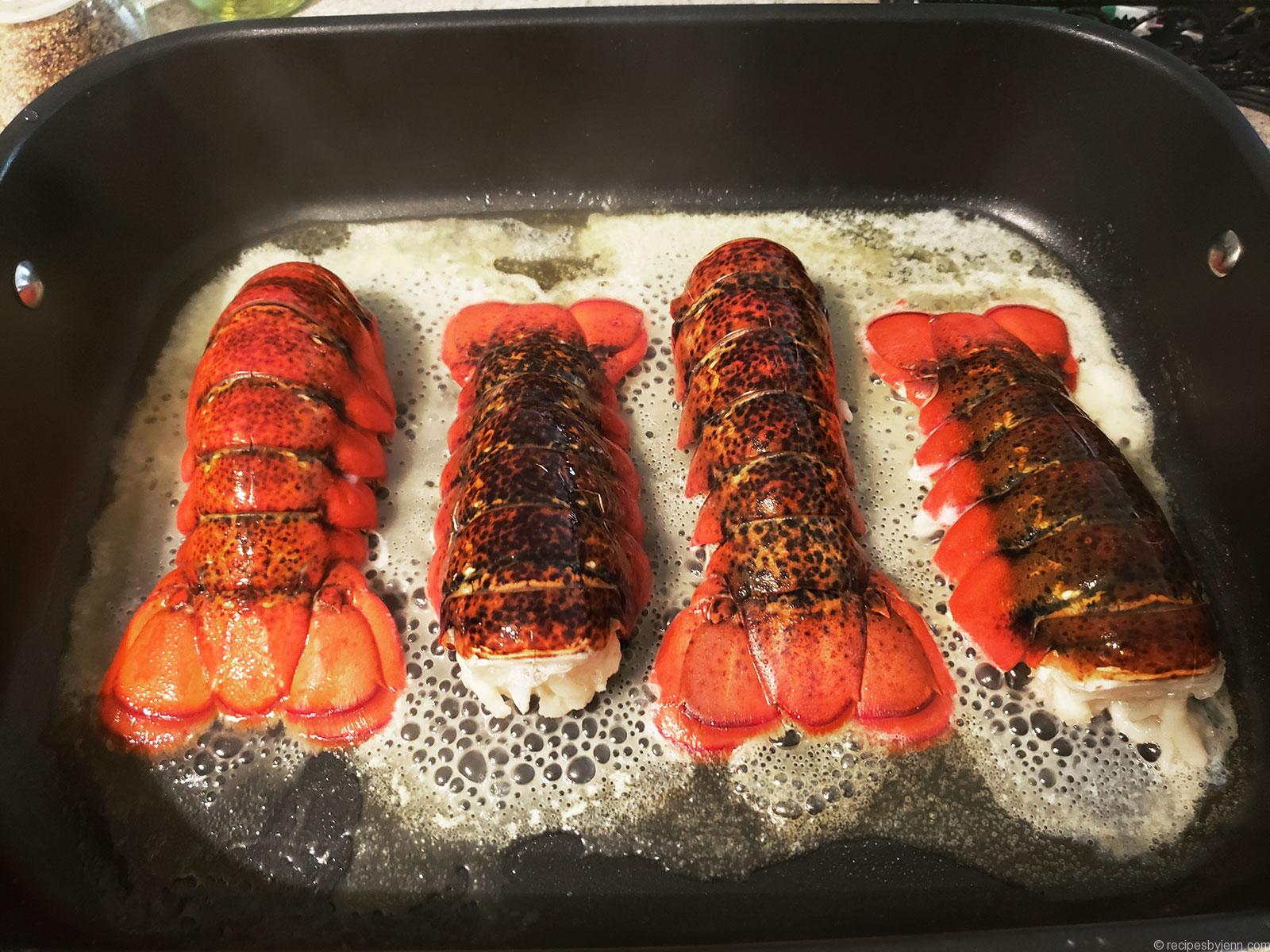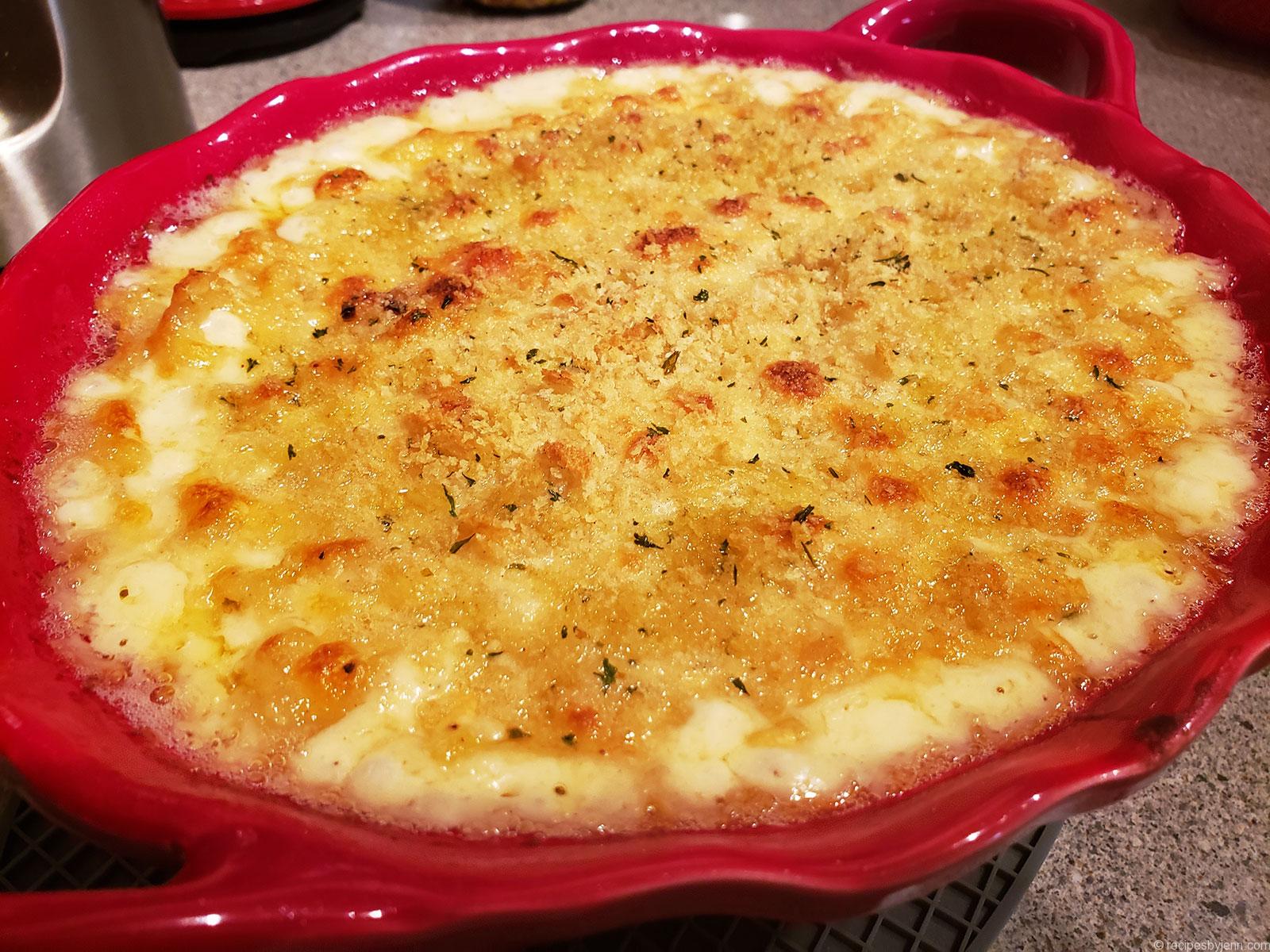 Instructions
Cooking the Lobster
Get your lobster started first: melt 1 tbs butter in a cast iron skillet
Crack with a knife length-ways the underside of the tail
Place the tail down, shell up, onto the iron pan and cook slowly on low until the meat is done and the tails begins to turn pink; this will be a slow process so start it right away
When the pan starts to become dry, drizzle a small amount of water or white wine to the pan to help steam your lobster
When the lobster is cooked, remove the meat from the shell and chop it into fine pieces and add it back into the same pan with the second tablespoon of butter, tossing to cover in the pan juices
Preparing the Rest
Preheat oven to 375
While your lobster is cooking, prepare your macaroni noodles by boiling to al dente, as per the box instructions; drain well and set aside
In a large pot, melt 3 tbs butter
Add 1/4 cp flour and cook for approx 2 minutes, whisking
Add 2 cp whipping cream - slowly, whisking as you go to break up any flour clumps
Bring the milk mixture to just under a boil and begin adding the cheese in small handfuls, one at a time, whisking until completely melted
Add spices and mix completely
Add cheese mixture and cooked lobster to the macaroni and mix well
Scoop into 4 dishes and sprinkle with panko crumbs
Put into the oven and bake until the panko starts to to brown and the cheese is bubbling (approx 20 minutes)
Add to Favourites