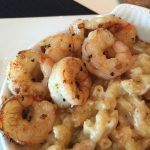 Buttery Garlic Shrimp
Mmmm buttery morsels of amazingness right here - pop them into your mouth.... Serve with Lobster Mac & Cheese as seen here, or with a stir fry, or on their own as an appy with a great Sesame Sauce. Oh gosh - I might need to make these again for lunch!
The ingredients are listed in the order that you will use them... and yes - lotsa butter...
Instructions
Melt 2 tbs butter in a skillet
Add the shrimp, sprinkled with salt and pepper, and cook for 2-3 minutes
Add garlic - cook 1 minute
Add chicken stock, reduce heat and cook 1-2 minutes
Add 3 tbs butter, 1 tbs at a time as it melts
Gently toss and sprinkle with parsley to garnish
Add to Favourites