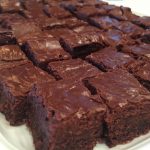 Yield: 60
Prep Time: 5 minutes
Cook Time: 35 minutes
Print
Chewy Fudge Brownies
Oh I can feel the sugar monsters creeping in this holiday season! In my world, where we strive to ensure that you we put the best ingredients, and the yummiest healthy foods into our bodies, Christmas time is my Achilles heel. There is always something new to bake up, and experiment with, or friends to feed, or DIY Christmas gifts to prepare... And this year, I can feel it coming on with a bang!
Already this past week, I've stocked the freezer with chocolate covered cherries and peanut butter fingers. I (no joke) have a running list in my phone for everything on my baking list (although I have a strict request from Hubby that this lemon pound cake is next).
But - back to these brownies!
Yesterday, I was invited to a sweet neighbours house party where I begged and she acquiesced I was graciously offered the opportunity to try out these new brownies. Oh sweet mother... they were so delish. I actually had 4 before they ever got to her house! Thank God that they are truly bite-sized, or we'd all be dying!
The greatest compliment was that everyone seemed to like them (and kept going back for seconds). And so, it makes the grade to go into this week's heavenly sugar files.
This is a double batch technically, but I will make lots to freeze over the holidays. And besides - why would anyone only make a single batch?! lol
When it says to 'prepare the pan' follow the instructions you see here. It will make lifting the brownies out of the pan so much easier. Totally worth it!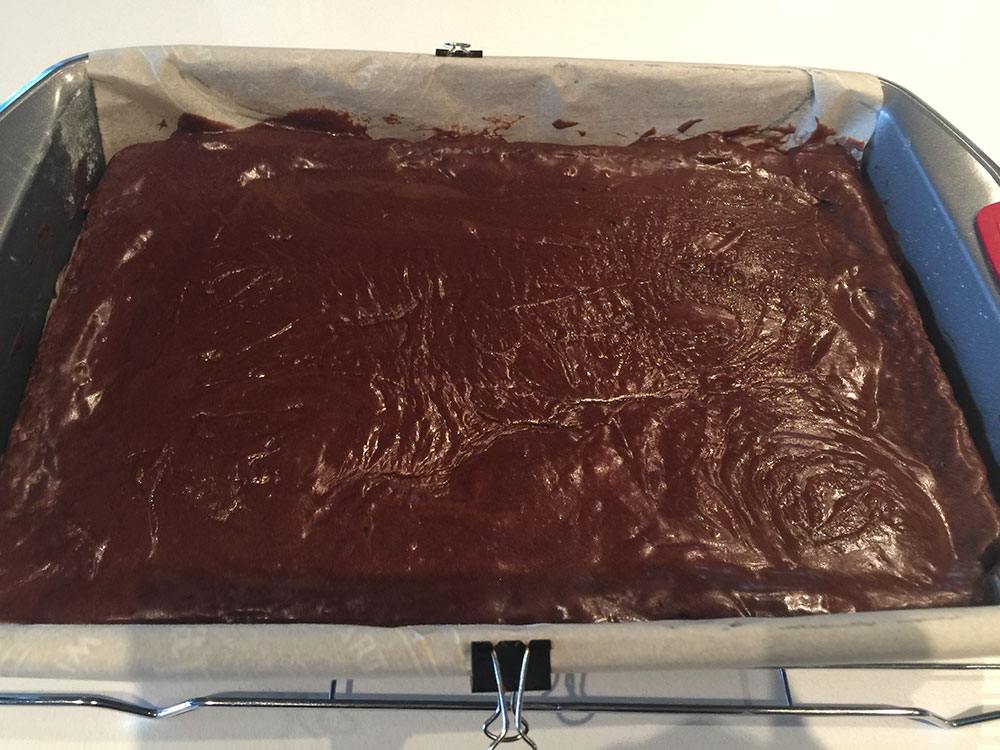 When baking, your oven may be slightly different in how long it may take to cook these up, but you can estimate about 30-35 minutes. When you can poke them with a toothpick and it comes out mostly clean, then remove them from the oven. You don't want them to be dry, so don't over-bake them.
Remove the pan from the oven and place on a cooling rack. Then very gently put the icing all over the top. Have patience with this because the icing is quite thick and firm at first, and the brownies will be quite soft. But, the magic is that the icing will melt as you gently smooth it over the surface. You may even want to try spooning the icing onto the hot surface, letting it melt for a few second, and then spread it out - gently. Once the pan is cool enough to handle, stick it in the fridge until it is completely cooled and the brownies have set. In other words, when you start to lift away the parchment paper from the pan, the brownies will bend a little, but not fold up (as if they were mush).
Once you have lifted the brownies out of the pan, you can start to cut them. Do this slowly, and wipe your knife if it starts to get lots of crumbs on there. Otherwise the edges of your brownie cut will not be smooth. (Not that it matters much... except you might feel inclined to eat all of the non-smooth ones instead of sharing with guests... and well, then you're just eating all of the brownies. Which you shouldn't. But you'll want to. Cause they're amazing. And it's hard to stop. lol)
They are quite rich, so cut into teeny tiny bites. I probably got close to 5 dozen 'bites' out of this one pan. And then I ate a bunch. Sigh.
Anyhoo... Bake these up. They are fab. Super chewy, fudge-y, chocolate-y brownies. Enjoy!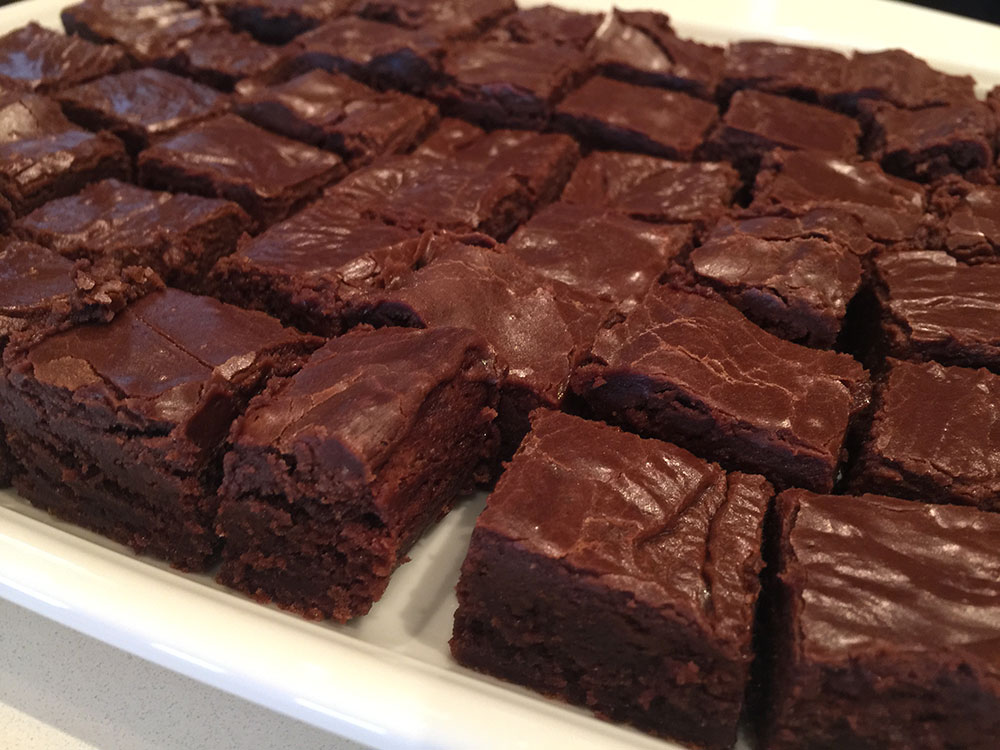 ---
When you make your own, don't forget to take a photo and share it online at Facebook, Twitter or Instagram with the hashtag #recipesbyjenn and by tagging @recipesbyjenn. That way, I can see your photos and share them with all my friends! Plus, I get to feature them on this site along with all my other photos!
Instructions
Prepare your brownie mix
Preheat your oven to 350°F and prepare your 9x13" cake pan
Start by melting your butter in a glass bowl and setting it aside to cool. Put eggs and vanilla into a separate, larger bowl, and blend well with your hand mixer. Add all of your dry ingredients into the egg mixture and continue blending until completely mixed together. Slowly add in the melted butter until everything  is smooth.
Gently pour into your prepared pan and spoon the mixture out until even. Bake for 30-35 minutes, or until a toothpick is poked into the centred and comes out mostly clean. Move to a cooling rack and immediately begin slowly covering with icing.
Place into the fridge and allow to cool completely (setting the brownies) and then cut into bite-sized pieces.
Icing:
Put all ingredients - except the cream - into a bowl and slowly blend until smooth. Then, gradually add in the cream until completely blended. Mixture will be very thick.
Add to Favourites