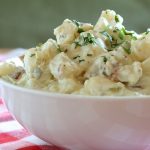 Yield: 4
Prep Time: 5 minutes
Cook Time: 25 minutes
Print
Nutrition facts

(per portion)
Nutrition facts
(per portion)
Calories: 157
Carbohydrate Content: 21.9
Fat Content: 6.4
Protein Content: 4.1
Creamy Potatoe Salad
Instructions
Steam your potatoes for approximately 25 minutes - just until they are soft but not falling apart - and gently mash to your liking. If you like your potato salad to have chunky pieces of potato, like we do, you won't want to mash them too much.
Add all of the remainder of ingredients to the potatoes and gently blend together. Place in the fridge to chill.
If your salad is not quite as creamy as you like it, you can add a little more cream and mix together right before serving.
NOTE: if your salad has cooled for a few hours and seems a little less creamy than you would like, you can add a small more amount of whipping cream.
Add to Favourites