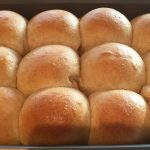 Buttery Dinner Rolls
Is there anything better than warm, soft, fresh from the oven dinner rolls? I think not, my friend. You know, sometimes we forget just how amazing this little accompaniment can be. But do it - just once (I dare you). Wanna feel uber domestic in a flash? Want the hubby, family and friends to moan with delight all through the meal? This is your ticket! (In fact, I think you could probably mess dinner up, and it would STILL be a hit with these little guys!)
The taste is ever-so-sweet - but not so much that it's over powering (as I'm not really into sweet breads, myself). The texture is light and fluffy, and yet buttery and croissant-y as you bite into it.
Ok - after writing this post, I must leave now... I am going to have to make these to go with dinner tonight. And then we'll eat them all. By tomorrow. And we'll be sad - not because we've gluttony'd ourselves on these little morsels, but because they'll all be gone (did I mention there is only two of us??).
Instructions
Sprinkle yeast over very warm water in large bowl. Stir until yeast dissolves. Leave to foam about 10 minutes.
Add sugar, the 1/4 cup butter and salt to hot milk and stir until sugar dissolves and butter is melted. Cool mixture to 105 to 115 degrees.
Add milk mixture to yeast and then mix in egg. Beat in 4 cups of the flour, 1 cup at a time, to form a soft dough. Use some of remaining 1/2 cup flour to dust a pastry cloth.
Knead the dough lightly for 5 minutes. Use remaining flour for flouring pastry cloth and your hands.
Place dough in a warm, buttered bowl; turn greased side up. Cover and let rise in warm place until doubled in bulk, about 1 1/4 to 1 1/2 hours.
Punch dough down and knead 4 to 5 minutes on a lightly floured pastry cloth. Dough will be sticky, but use as little flour as possible for flouring hands, otherwise rolls will not be as feathery light as they should be.
With large knife, cut dough ball into four (4) pieces. Cut each piece into four (4) more pieces OR simply pinch off small chunks of dough and roll into round balls about 1 3/4 inches in diameter. As you roll into balls, pull sides down and under to shape roll. Place bottom side down in neat rows, not quite touching, in well-buttered 13 X 9 X 2 inch pan.
Cover rolls and allow to rise in warm place until doubled in bulk; 30 – 45 minutes. When doubled in bulk, brush tops with melted butter and bake in 375 degree F oven for 18 – 20 minutes or until nicely browned. My oven runs hot so I usually bake @ 325 so tops do not brown before rolls are done inside. Adjust your oven temp accordingly.
If desired, brush (or bathe!) rolls in more melted butter when they are hot. The butter will sizzle down sides and bottom of rolls for a buttery soft crust.
Original recipe from www.justapinch.com
Add to Favourites