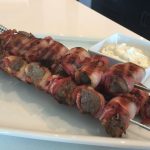 Beefy Bacon Bites
Hmmmm.... bacon. Last weekend, we had a couple of new neighbours over, and I think we may all become serious friends. Their talk of cooking wars, and bacon-featured potlucks had me hooked. So, new neighbours, this little yummy guy was inspired by you!
Instructions
About an hour before cooking, cut your steak into approximately 10 small pieces each (they don't need to be large because you are going to wrap them in thick-cut bacon, and you still want them to be bite-sized)
Place bites into a large ziplock baggie with soy sauce and allow to marinate on the counter until room temperature (I cut my steaks when they have been in the freezer for about 1/2 hour so I can let them sit on the counter for about 45 minutes) (slightly frozen meat slices more evenly, easier...)
Take this time to combine all other ingredients for the sauce and set aside to chill
Take your long strips of bacon and slice them in half, wrapping 1/2 piece around each piece of steak and sliding onto a skewer
Place on the grill or BBQ to cook until the bacon is cooked through.Note - if you put on a BBQ, set only half of the BBQ with the burner on (the 'hot' side) and the other half off. Place the skewers over the hot side for the first few minutes to get a flame kiss, rotating all sides only after a minute or so per side, then move to the other side of the BBQ without the direct flame to continue cooking. This is so that the bacon grease is not falling directly onto your flame, and possibly burning off your eyebrows!
Remove once cooked and serve with horseradish dip. Try to remember to share with your guests!
Modified from www.joyfulhealthyeats.com
Add to Favourites