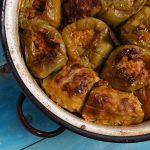 Yield: 12
Prep Time: 30 minutes
Cook Time: 6h 00 min
Print
Cabbage Rolls
Yeah, so... um... Oh. My. Gosh.
I never really gave much thought to cabbage rolls in my younger days (not that they are so far away, I suppose). But when I first moved away from home, a girl that I worked with brought one in for me to try, and I was in love! Sadly, it would be many years after that before I would have them again.
Thank God I found lots of great new friends - every holiday or get together has a big ol' pot of cabbage rolls, and it was an unspoken secret fight as to what side of the table would get to have the dish sit beside them. Honestly, I just started layering them onto the plate and hiding one or two extra under salad so that I didn't look like a complete hog. But - hey - don't judge! - at least I didn't have to wait for the dish to come around again! It's called forward thinking, people ;o)
Instructions
Remove the cabbage from it's bag, carefully separate 12 leaves and dip into a pot of boiling water for 3 minutes; use paper towel or a clean tea towel to pat dry. This will soften them and turn them a vibrant green.
If your cabbage has thick firm veins, you can cut the veins out by using a pair of kitchen scissors and splitting the leaf in two right up the middle, removing the vein
Mix together rice, egg, milk, onion, garlic and bacon in a bowl (it will be soft)
In a separate bowl, mix together all sauce ingredients
Place a leaf on your work surface, place a scoopful of rice blend into the cabbage, and roll from the bottom, trying to tuck in the sides along the way. It's ok if it's not perfectly rolled, as long as the rice doesn't fall out. You may even notice that some of your leaves may poke through - if you can still keep them together, put them in the pot with the rest! Leave no cabbage uneaten!
Once all of the pieces are rolled (you may get more than twelve depending on the size of your leaves) and placed in the bottom of your slow cooker, cover them with the blended sauce.
Cover and cook on low for 6 hours and test. Remember - all ingredients are pre-cooked so you are just wanting to get it slightly browned and to a melty in your mouthy consistency.
Then... you've done it!! Eat eat eat - and try to remember to share (damn that sharing rule!)
If using this for a 21 Day Fix recipe, I split the whole thing into 2 portions - so 6 rolls each depending on how many you get (they aren't huge):
(Green = 2.75, Red = 0.75, Yellow = 0.75, Blue = 0.5, Orange = 0.5)
I am including the container values for my own reference (and anyone else wanting to do this)... but keep in mind, these are my recipes and not provided by or approved by or associated with, or anything else 'with', the 21 Day Fix. In fact, it may be a little generous at times, or ingredients may be different based on what we like to eat. It's meant to be a guide.
Add to Favourites