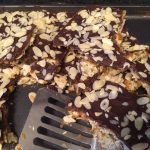 Yield: 1 cookie sheet
Prep Time: 10 minutes
Cook Time: 2h 30 min
Print
Easy Almond Rocca
I was given this recipe many years ago, and have never wavered from it since. It's way better than the cans of almond rocca that you find in stores around Christmas time… And since it's so easy to make, there's really no reason not too!
Instructions
Preheat oven to 325
Line a cookie sheet with a single layer of crackers
In a sauce pan on the stove, melt together butter and sugar, and boil for 3 minutes
Pour over the crackers gently, and using the back of a spoon, spread the butter/sugar mixture evenly so that it covers all crackers
Bake for 4 minutes only and remove the pan from the oven
Sprinkle chocolate chips over the entire top, and again with the back of a spoon, gently spread the chocolate evenly as it begins to melt – gently though as you do not want to move the bed of crackers out of place
When all the chocolate has melted, evenly sprinkle your almonds and put in the fridge until it sets (a couple of hours)
To break apart, use a spatula to lift the rocca away from the edges, and lift from underneath. It will be a little sticky and come up in broken sheets, and won't be pretty – but that's ok! You will then break apart into bit-sized brittle pieces and store in a baggie or air tight container in the fridge until you serve at your next holiday party!
Add to Favourites