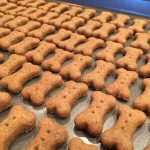 Prep Time: 5 minutes
Cook Time: 18 minutes
Print
Easy Peanut Butter Bones Treats for Small Dogs
Another super easy recipe for bone treats for your small pup! And since this is The Duchess' first birthday on Thursday, I figure, what better thing to do that to start spoiling her now - 'cause you know - she is never really spoiled... ever... ;o)
Start by putting your flour, egg and baking powder in a bowl and use your hand blender to beat together. Then add the remainder of the ingredients - natural peanut butter, honey and water. Simple. I recommend natural peanut butter because you don't end up with all of the excess sodium and preservatives from the typical stuff, and your pup's little body doesn't need that.
Once you have it all mixed together, place a sheet of parchment paper down on your work surface and form a log.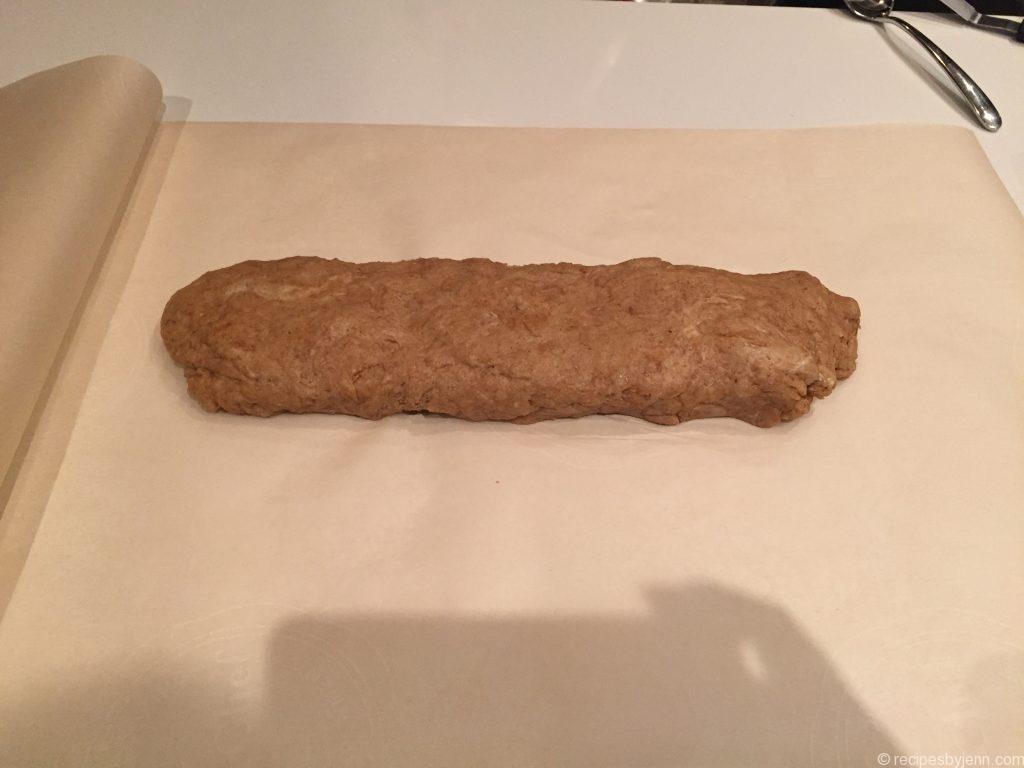 Second trick - add another sheet of parchment paper on top of this one...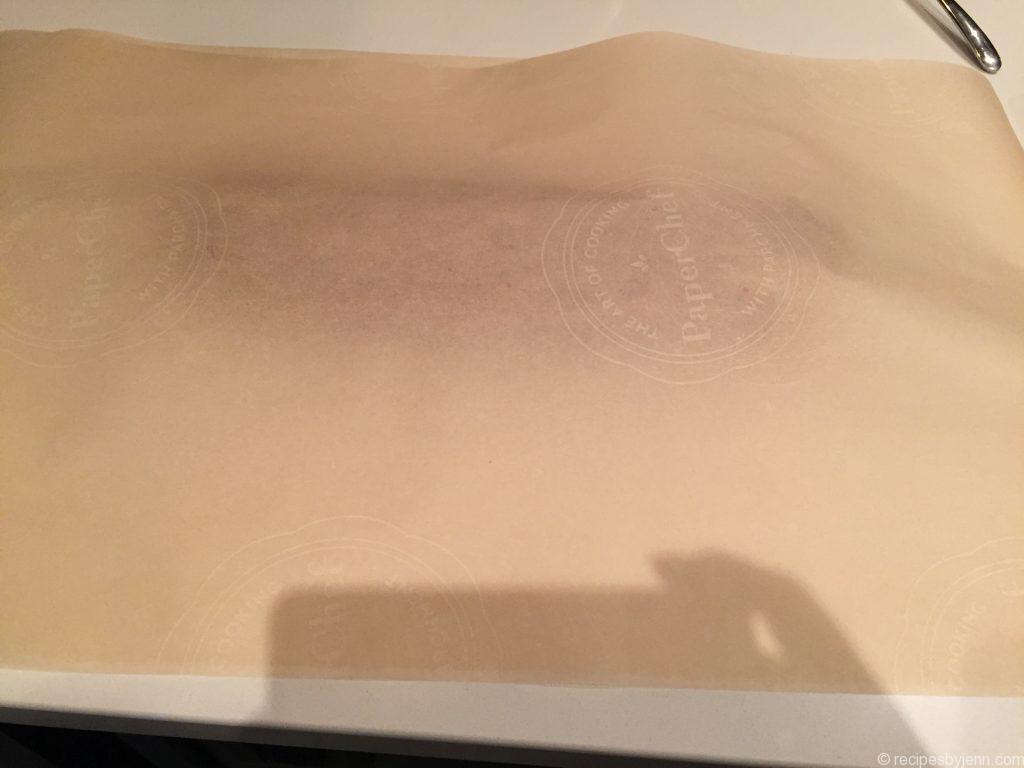 You can make any cookie (not just dog ones) that require rolling like this. I love this method because it keeps your counters and your rolling pin clean - and it's a breeze to clean it all up in the end.
Use your roller and press out the dough until it's about 1/4 inch thick.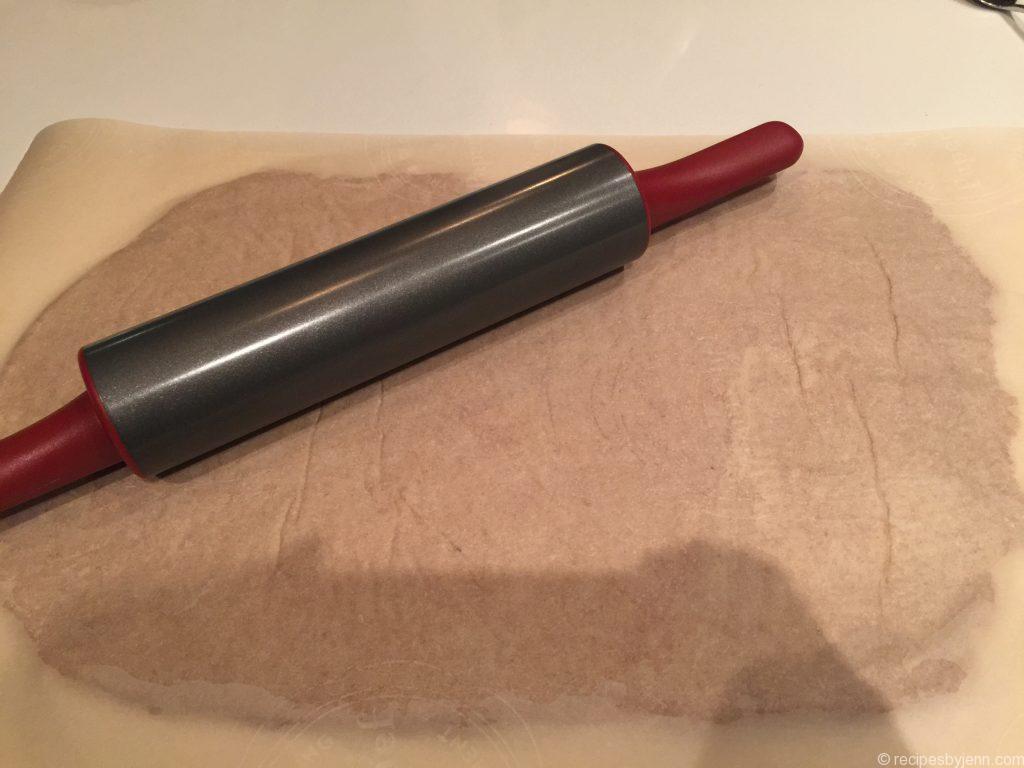 Then flip the dough and parchment paper over (I find the underside is always smoother). Then using your teeny tiny cookie cutter (assuming you have a teeny tiny pup like me), cut as many bones out as you can! Place them on a cookie sheet.
(Here's the link to the cutter I used - I love this site!)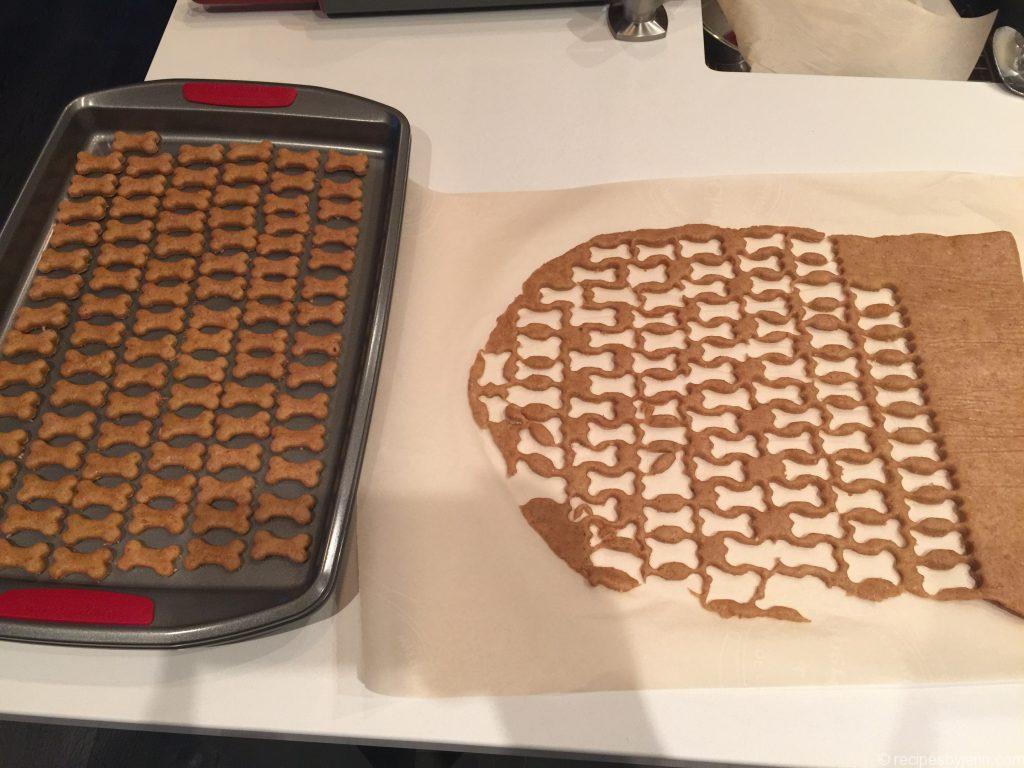 I have a 1.5" bone cutter and as you can see - this batch makes a ton!
And here's where it's really a labour of love - 'cause your pup probably won't appreciate this last step, lol, but I like to take a little 3-pronged fork and make the signature bone dots in the centre...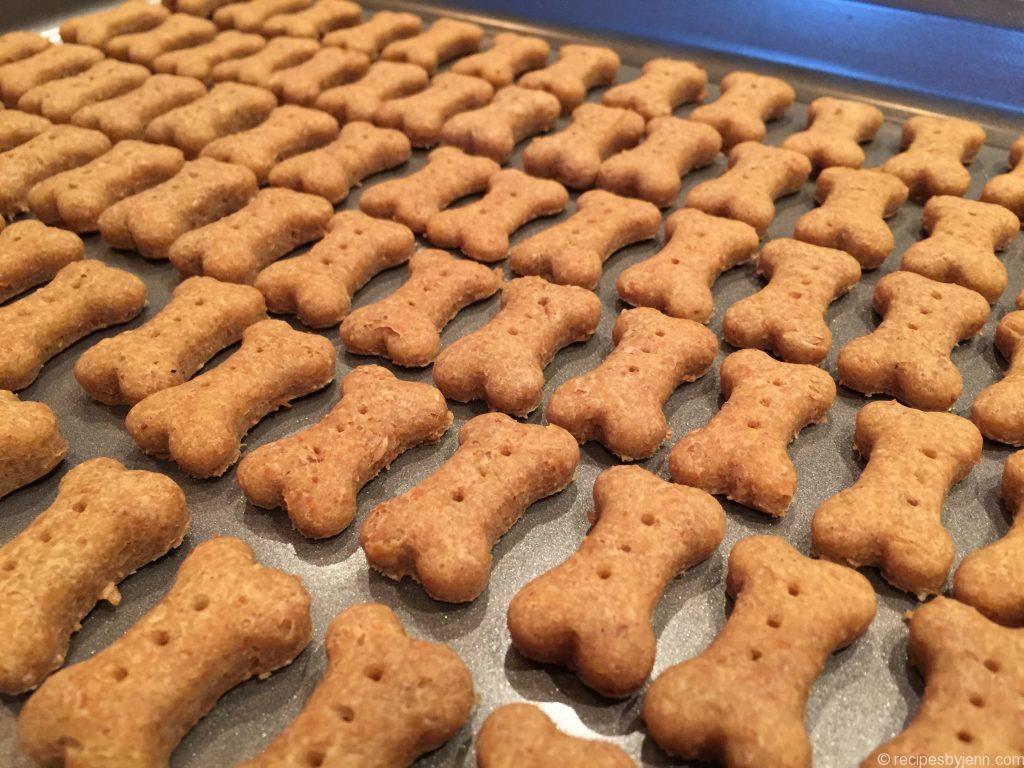 When you do that - they bake up soooo cute!!!!!
(Yeah, I know.... some of you are rolling your eyes... but it's FUN!)
Bake for 18 minutes and then let them cool... completely... no matter how much your pup begs you to let her sample the hot ones!!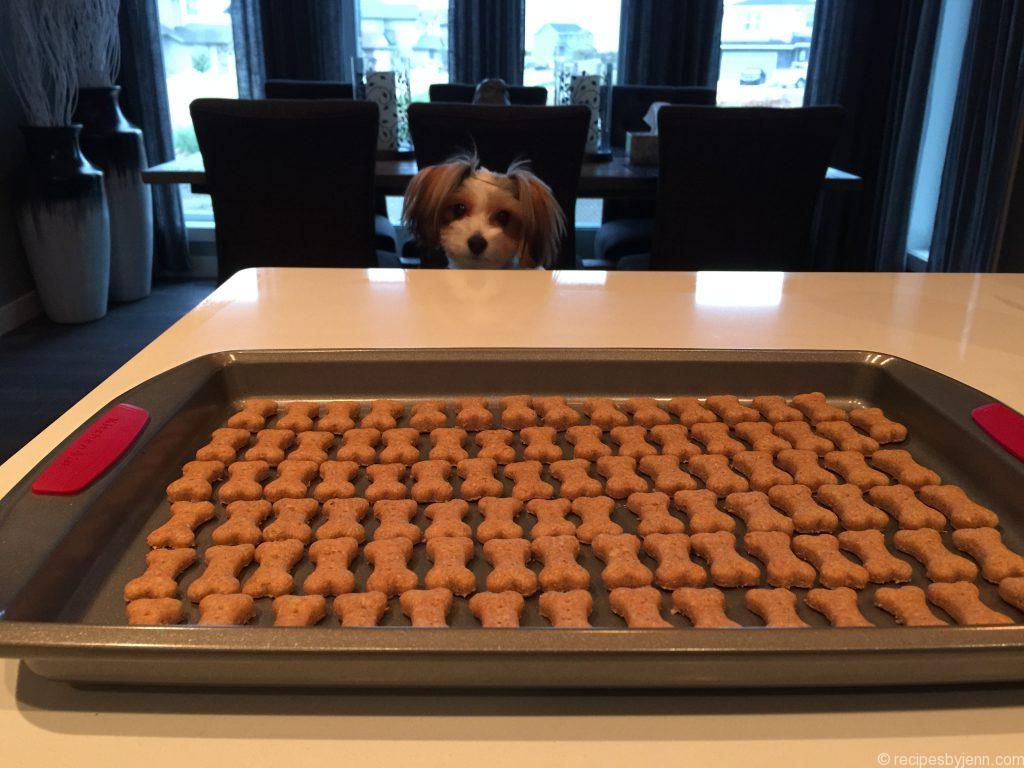 Since I don't really want her to eat all of these at once (although I know she'd be happy to try!), I put most of them into a large Ziploc baggie and pop them into the freezer. I keep a small baggie of a dozen or so in the fridge and just take one out at a time for her. She doesn't get a whole lotta treats - maybe 2 of these throughout the day - so they last a long time!
Enjoy!!
---
When you make your own, don't forget to take a photo and share it online at Facebook, Twitter or Instagram with the hashtag #recipesbyjenn and by tagging @recipesbyjenn. That way, I can see your photos and share them with all my friends! Plus, I get to feature them on this site along with all my other photos!
Instructions
Preheat your oven to 350 degrees
Combine flour, egg and baking powder and mix well
Add remaining ingredients
You can now roll out and use your cookie cutter or press into your mold; if you use the mold, these will rise slightly so you don't need to fill the mold to the top - maybe only half way
Bake approx 18 minutes
Add to Favourites