It's a beautiful Saturday afternoon, and for the first time in a while, I find myself with a few hours of nothingness…. So naturally, what do I do? Sit at the computer to blog. Ha! Have I learned nothing?! LOL But here we are, and I have been waiting to do this post on my newest favourite little gem, so why not take a few minutes now.
A week ago, Hubby and I had the amazing pleasure of getting to visit with his (my adopted) Auntie and her Alec. Such amazing people – real salt-of-the-earth type… The kind of family that you are blessed to be a part of, or married into, or however you can get there!
Anyhoo… after a fantastic meal of a 4-meat + rice dish that was insanely good, she decides to serve up a strawberry rhubarb pie. Well, let me  tell you…. my taste buds were literally dancing in my mouth. Seriously, one bite and I was salivating! And to top it all off, Mr Picky (my hubby) ate a full piece and really enjoyed it! Even talked about it for a couple of days after! Now, this is the man that absolutely HATES eating fruit in cooked or baked goods. Like, I have to refuse to tell him what's in things sometimes or we just get the sourpuss face.
But this, he liked.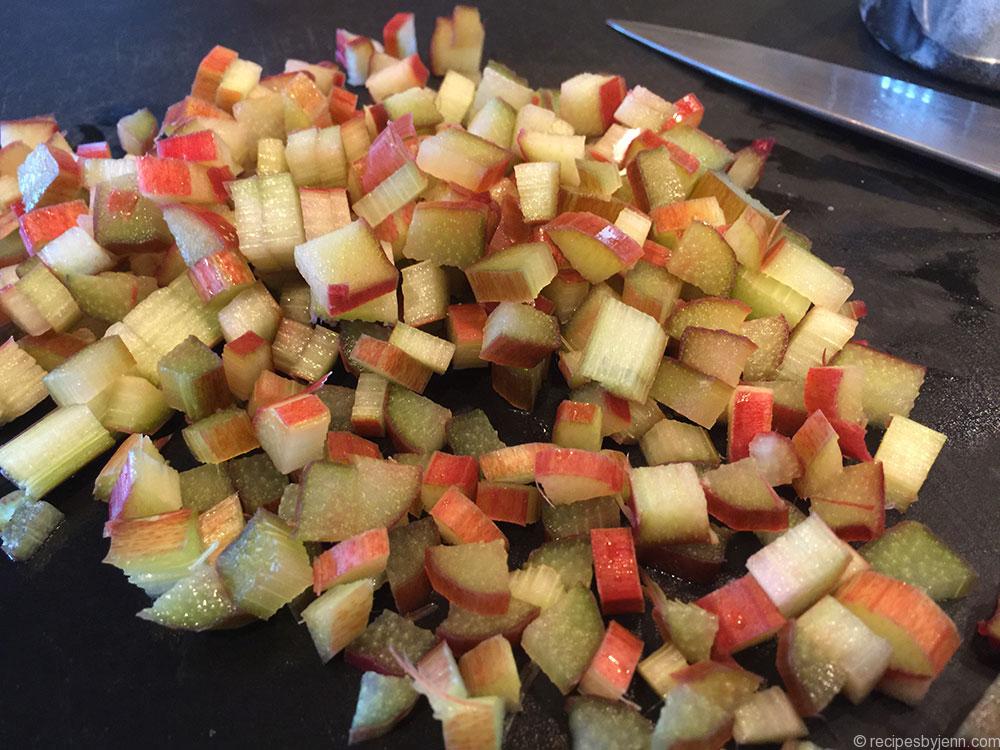 To make them even awesome-er in my books, Auntie & Alec were so awesome to share a bunch of rhubarb with me from Alec's garden, and I could not wait to get home. For two nights, this bag o' veggie sat in the mini fridge at the hotel until we could make our trek back home on Sunday.
[gard align='center']
And then Monday morning was finally here! I could start playing around to see what deliciousness we could come up with. But, of course, we can't stray too far… after all, we are trying to avoid excess sugars and such, so whatever we ended up with had to be good enough to indulge in without guilt. From there, I spent the next four mornings working through each recipe until, sadly, there was no more rhubarb. (But truthfully, I think Hubby was starting to question my sanity when he's wake up and come downstairs every morning to yet another rhubarb dish! Ha!)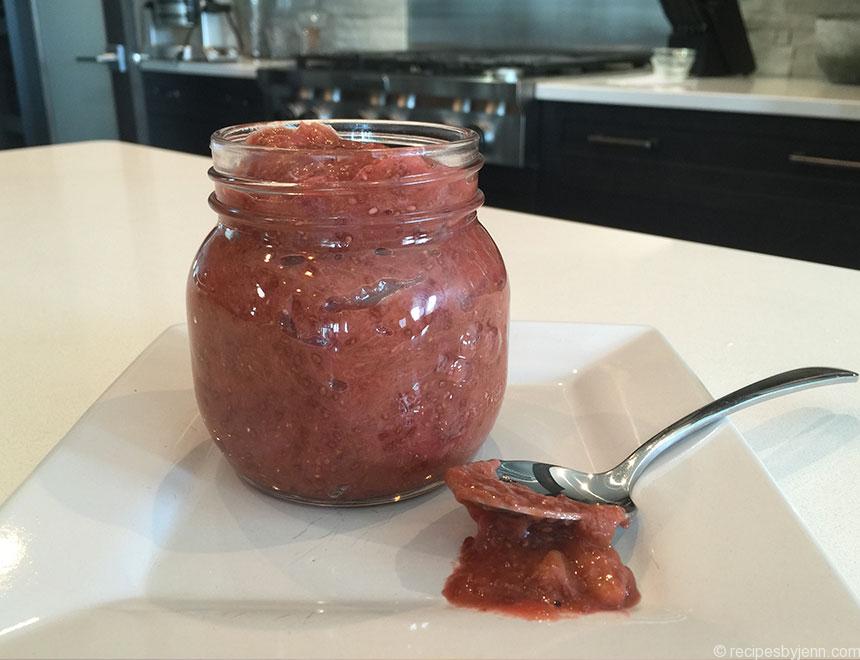 Strawberry Rhubarb Jam
Now, THIS is amaze-balls! This was morning number 1… and by morning #3, I had eaten half a jar already! No joke. I love jam. Always have. But the amount of sugar or artificial sweeteners, or even hidden sugars that you find in the typical jar is just crazy, and you can't feel good about eating it (at least, not in the amounts that I have).
This guy? By the spoonful. Mixed up with some Greek yoghurt. On toast. By the spoonful (did I say that already?). On the loaf I made a couple of days later… Man, so good!
Only 5 simple ingredients, and I used pure maple syrup for the little bit of sweetener used. No pectin like a typical jam – chia seeds were used to thicken up the consistency… and it's chia… it's perfect!
Seriously, you have to try this one. It's so good. Rhubarb will be a staple for jam around here.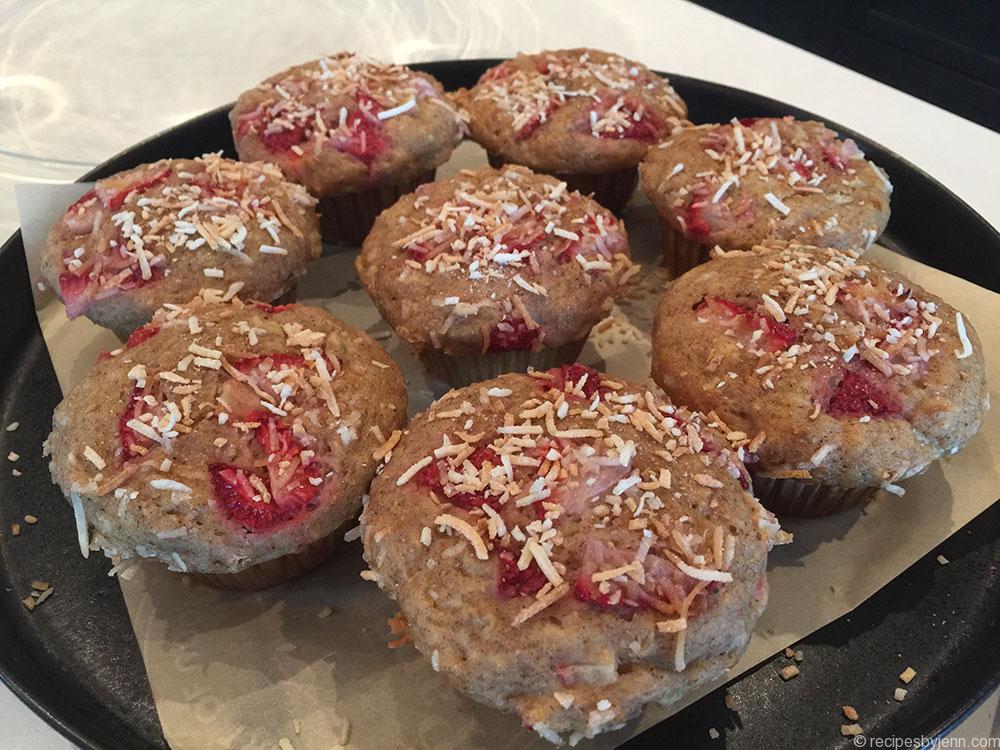 Banana Rhubarb Muffins
Mmmmm what do you get when you have too-ripe bananas sitting on the counter? You get a fantastic natural sweetener, that's what you get! This recipe was, again, really easy to put together, and the muffins rise up nice and big, which I love.
Another fantastic way to get a little natural sweetness in there is the toasted coconut. It just gives you that little something extra in the flavour. Add some thinly slices strawberries on top and you're golden!
[gard align='center']
I like to do these in paper cups… that way I can actually eat a couple and then freeze the rest. As we speak, I have a ziploc bag of muffins sitting in the freezer just tempting me with their goodness! But this week has been so full of sweets and treats (check out last night's cheesecake – woah), that I figured I need to spread them out!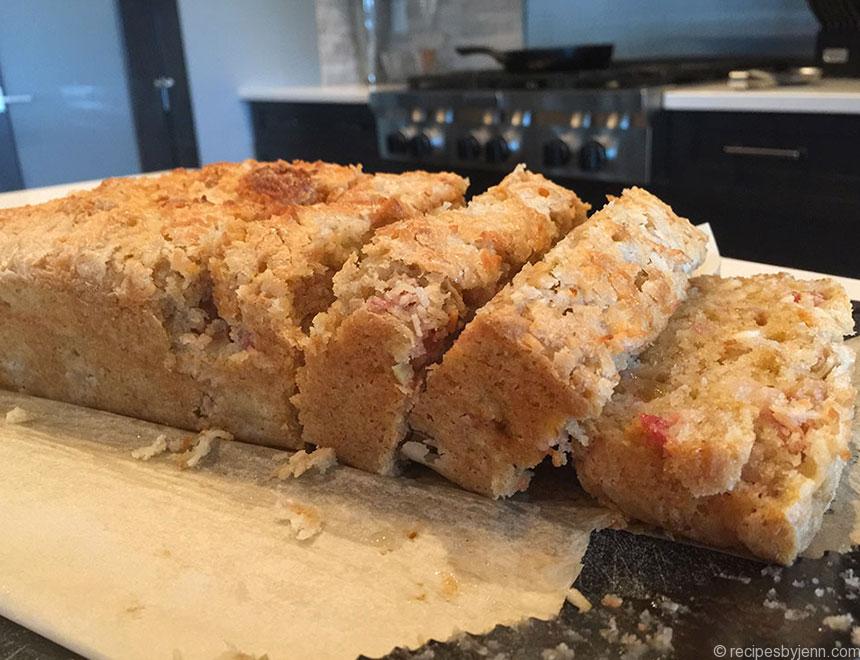 Coconut Rhubarb Loaf
Ok… now THIS is the recipe that you cannot live without! I am not even remotely kidding about this. If you like coconut, and you like rhubarb… then you need this puppy in your life!
No butter or sugar… this one uses coconut oil and pure maple syrup to give you tons of flavour. Not only that, the loaf itself is so moist! I was a little skeptical at first, with no butter (in a loaf? unheard of), but it works. This, I did not freeze. I ate it. Ha!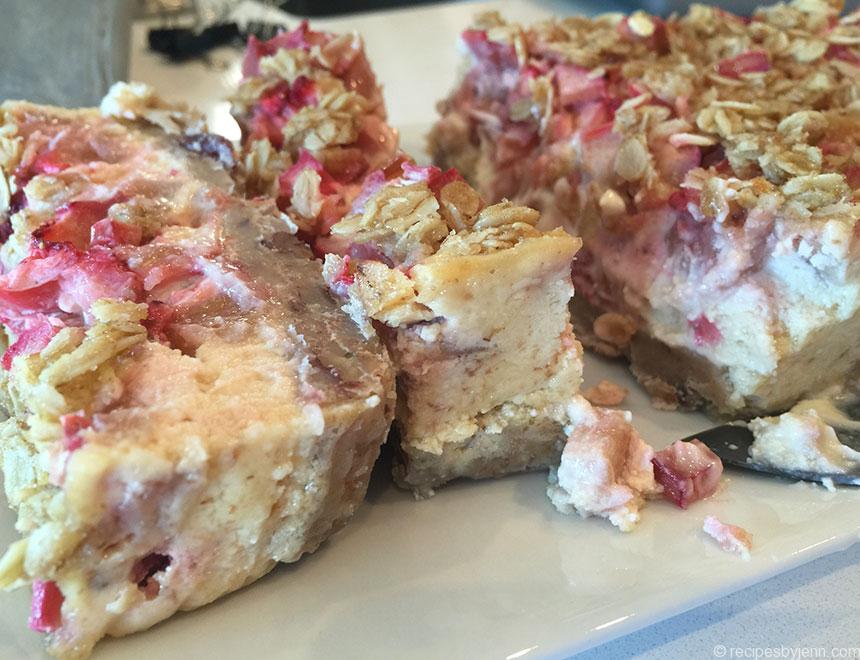 Rhubarb Cream Cheese Bars
And last, but most definitely not least, the last day of my rhubarb adventure was reserved for these cheesecake bars. They are a chilled treat, and soooo yum. PLUS, the only butter (1 tbs) and sugar (brown, 1 tbs) were in the oat strudel on the top. Otherwise, we are using apple puree and pure maple syrup again for sweeteners.
It's going to feel a little different – not whipping up your cream cheese with sugar, but it's ok… just give it a try. The flavour is the same, and you can feel great about not  taking in all the refined junk of the typical cheesecake (not that we have anything against cheesecake – I had a full fat one just last night! Ha!).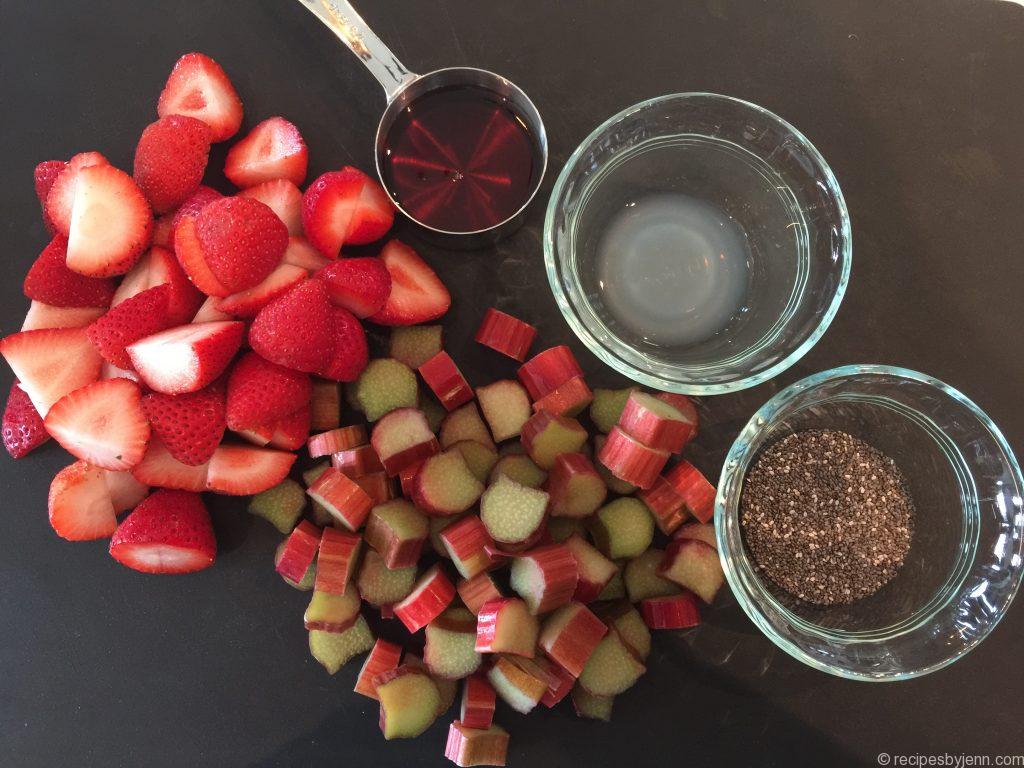 And there you have it… the end of my rhubarb adventure… at least until I run outta goodies and have to get to the farmer's market – hopefully they have some hot house ones all year round (hot house rhubarb refers to ones that are grown in a heated green house 12 months of the year).
And to my glorious Auntie and her Alec: thanks so much for sharing with us… And while my hubby didn't like any of these dishes (that fruit-in-food thing), he still talks about your pie, so I'm gonna need that recipe… and maybe a little more rhubarb!! Love you guys!! XO