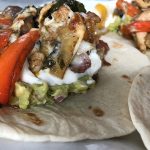 Prep Time: 60 minutes
Cook Time: 15-20 minutes
Print
Mushroom Jack Fajitas
One of my favourite restaurant dishes has always been Chili's Mushroom Jack Fajita. I was crushed (ok, maybe not crushed, but close) to learn that they no longer serve it like they used to. Some nonsense about not always keeping mushrooms on hand lol.
There was only one thing to do - go hunting for a copycat! I found one really close with natashaskitchen.com. She got the spices nearly right, but I modified the prep just a little to get the max out of the flavours.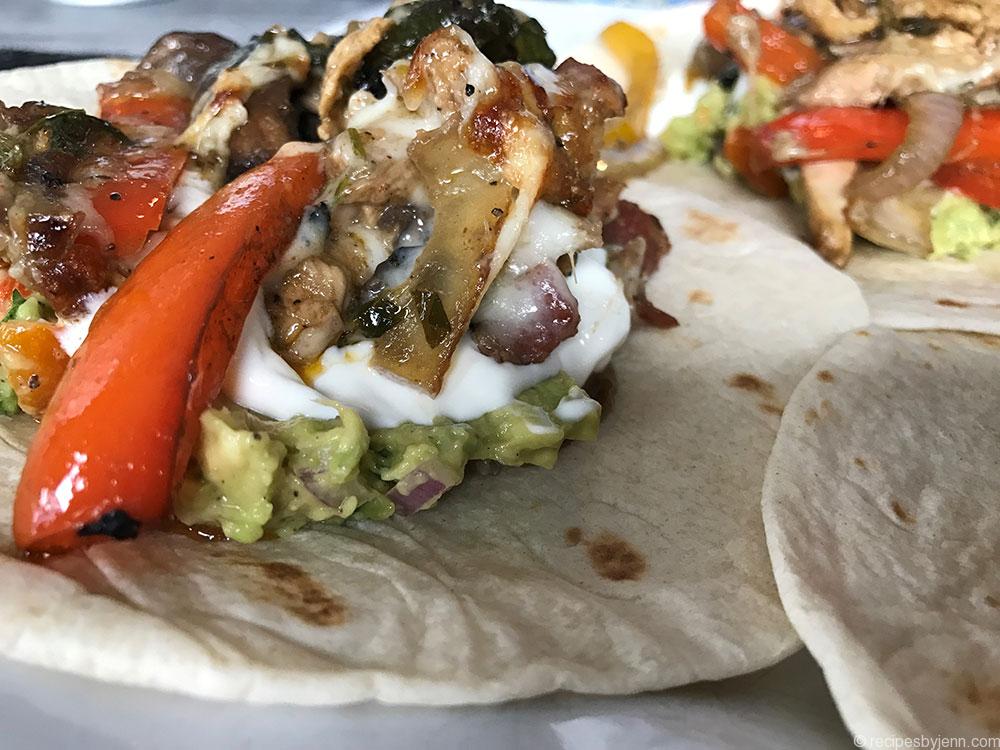 A lot of people seem to be cooking the veggies and meats separately, but I prefer to cook them together - saves on time, but also gets the flavours of each blending through everything. I also added a sort of broil at the end - one of the best parts of this dish is the burnt cheese! You know what I'm talking about!!
Ok - here goes - super easy.
Plan ahead - about an hour before, thinly slice your chicken breast and place it in a baggie with all of the marinade ingredients. Smoosh it all together to get things good and mixed, and then set it in the fridge to marinate.
Then, take time to make fresh guac. It's not rocket science, and it's soooo much better than the store bought shelf stuff.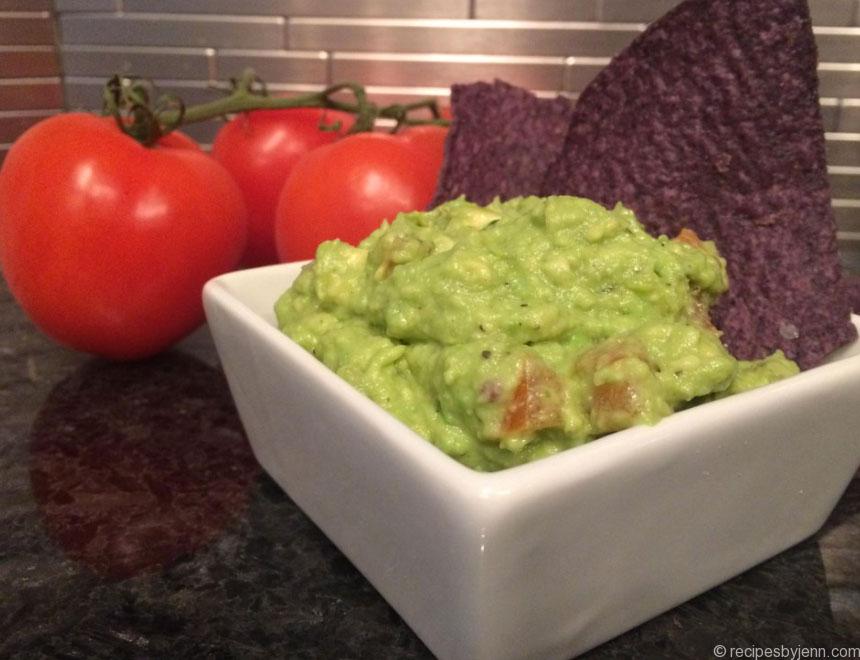 Then, just about an hour after you set the chicken aside, heat an oven-proof skillet (I like cast iron for this part). Add 2 tsp evoo and all sliced veggies to the pan and start cooking on low-medium (depending on how awesome your cooktop is).
(Oooo turn your stove on to 425°F now and put one of the racks near the top.)
In a grill pan (I love these for everything - mine is used nearly every day!), cook up your bacon and set it aside. If you buy good quality bacon, you're not likely to get a lot of extra grease, but if there is, drain off anything over the top. Then add your meat. I love getting the bacon flavour right into the chicken!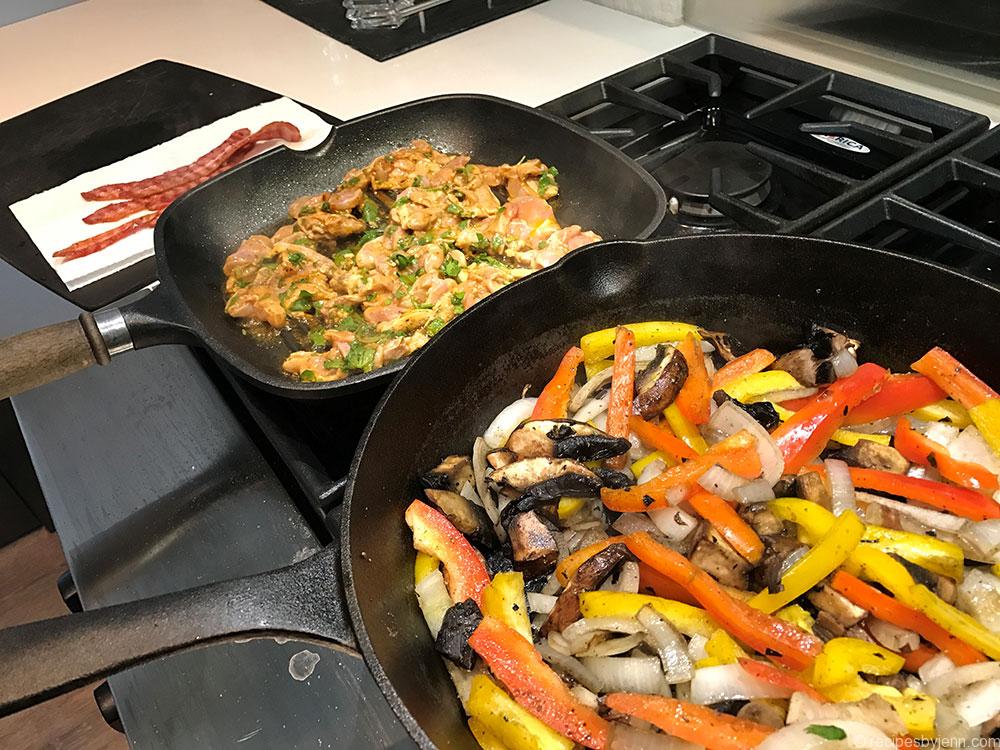 Let it all cook up until the chicken is completely cooked. Then, chop up the bacon and add it to the veggies. Throw the chicken and all the juices from the grill pan to the veggies as well and blend well. Let this cook until the juices are nearly all gone.
Sprinkle the top with the shredded cheese and place it in the oven for about 10-15 minutes. You can also wrap your tortillas in tin foil and stick those into the oven on a lower shelf as well, just to nicely heat them - better than the microwave.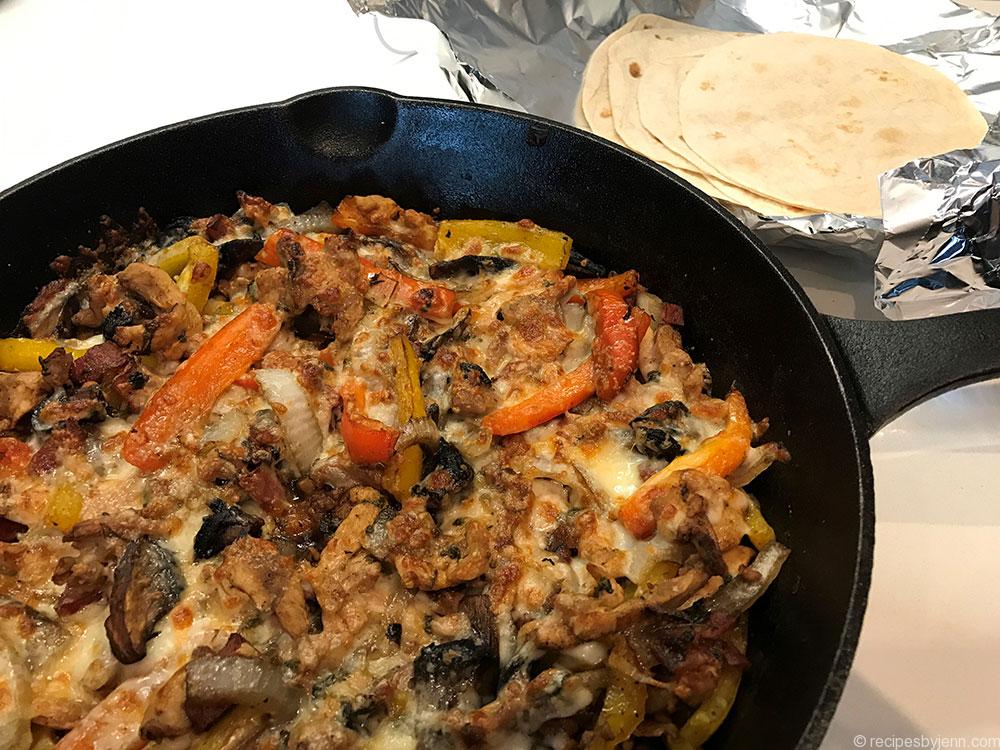 You'll know it's done when the cheese is all melted and browning. Stir it all up in the pan and you'll start seeing that familiar, glorious dish you know and love!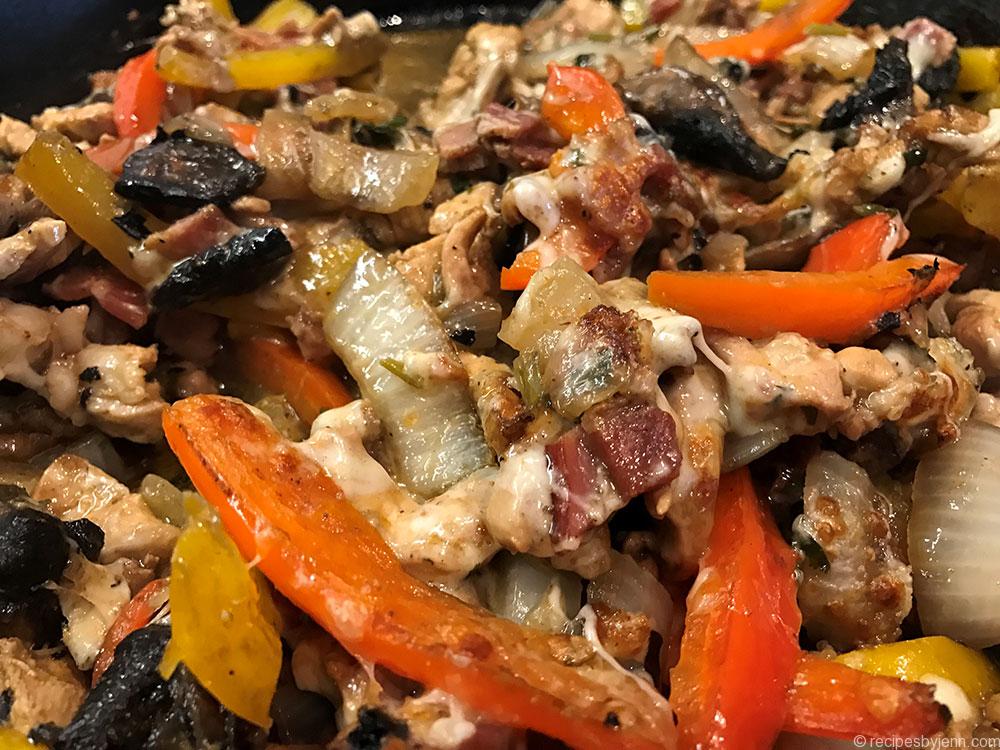 (Is your mouth watering yet?!)
Serve it up on your warm tortillas with your guac and sour cream. And DONE!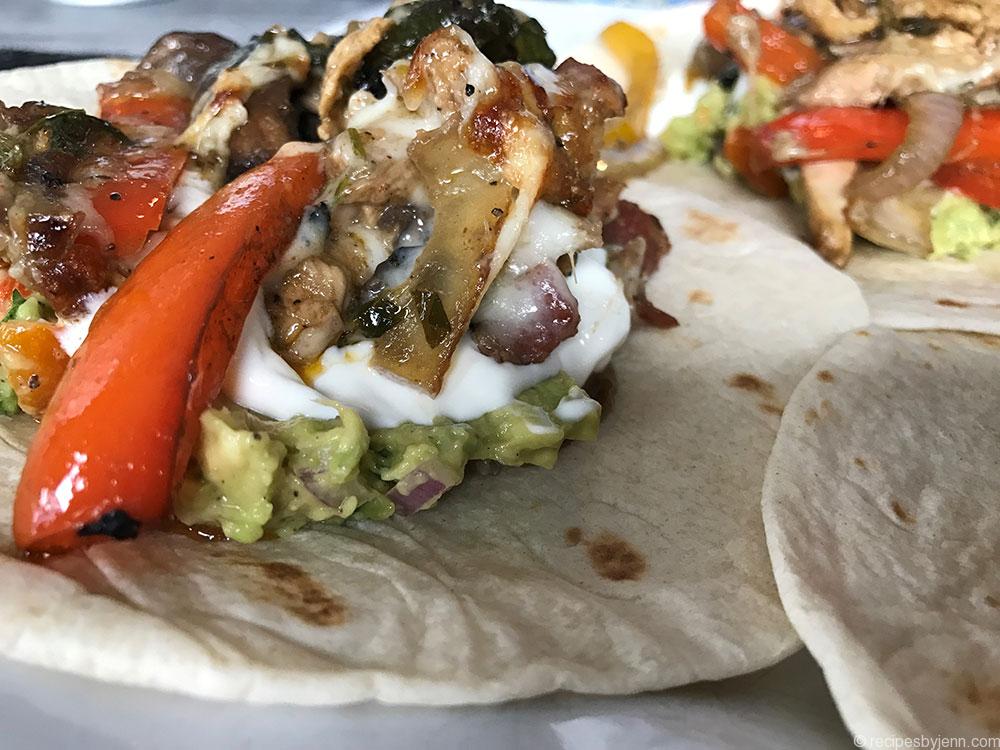 The original added extra lettuce and cheddar cheese, but you don't need it. These are fab! Enjoy!!
---
When you make your own, don't forget to take a photo and share it online at Facebook, Twitter or Instagram with the hashtag #recipesbyjenn and by tagging @recipesbyjenn. That way, I can see your photos and share them with all my friends! Plus, I get to feature them on this site along with all my other photos!
Instructions
One hour before cooking, place sliced chicken and all marinade ingredients into a large Ziploc bag, and marinate in the fridge
Make your guacamole and set aside
Preheat oven to 425°F, placing a rack near the top
Slice peppers, onion and mushrooms and fry on low-medium in an oven-proof skillet with 2 tsp evoo, sprinkled with salt and pepper
In a grill pan, cook bacon and set aside
Drain away excess bacon grease and add chicken and marinade to the pan, cooking until chicken is completely finished
Chop bacon and add to the veggies; add cooked chicken to the veggies; finish blending and cooking together until almost all of the juices have evaporated and the veggies are nice and soft
Sprinkle the top with cheese and place the entire pan on the top shelf of the oven, baking for 10-15 minutes or until cheese is fully melted and browning
Remove hot pan from the oven and stir all ingredients
Serve on warmed tortillas with guacamole and sour cream
Add to Favourites