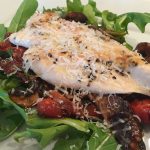 Yield: 2
Prep Time: 5 minutes
Cook Time: 25 minutes
Print
Portabella Parmesan Chicken
Necessity is the mother of invention! Such is lunch today! As the week dwindles down, I find myself looking at an ever-emptying fridge. Crazy considering the load I brought home from the Italian Market just days ago. Do we really eat that many veggies?!
It's lunch time. I need a quick meal to put together, using what's available, and without a whole lotta effort, 'cause let's face it - I just didn't wanna put in a whole lotta effort for lunch on a Tuesday! As it turns out, this one is sooo easy, I can practically do it in my sleep. Here we go...
Start by smashing and chopping your garlic (mmmm garlic...).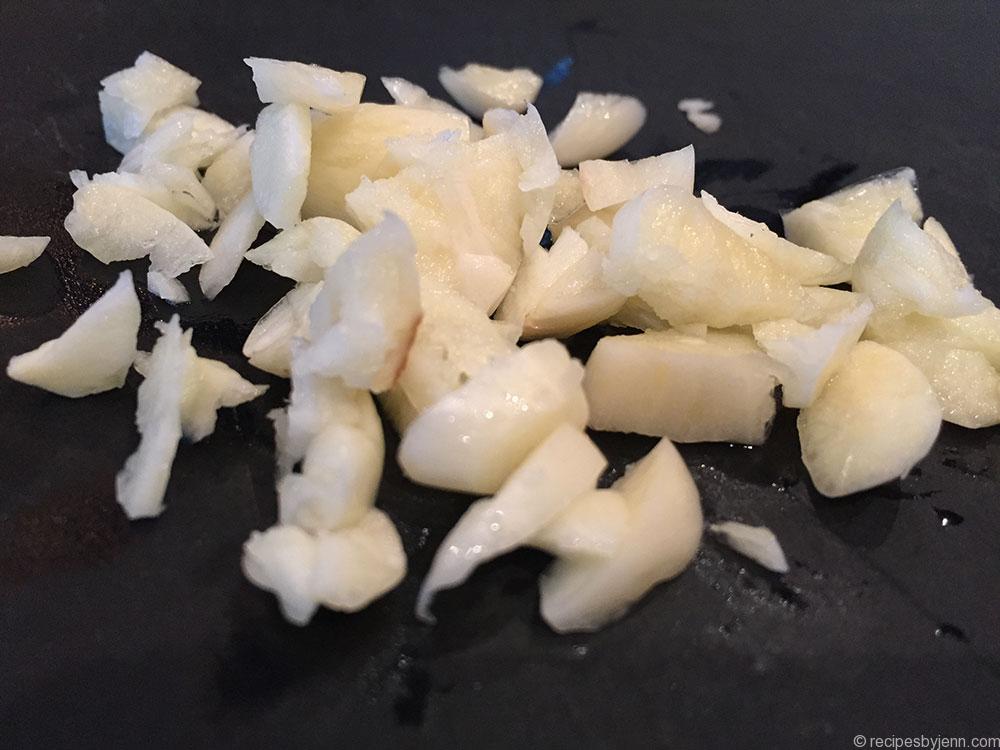 Heat your evoo in a pan and place your chicken breast and the garlic in there to start sizzling. This is using an 8oz chicken breast and just sliced in half to make two portions... Sprinkle with salt and pepper. You might want to keep the splatter screen over top as it will likely spit.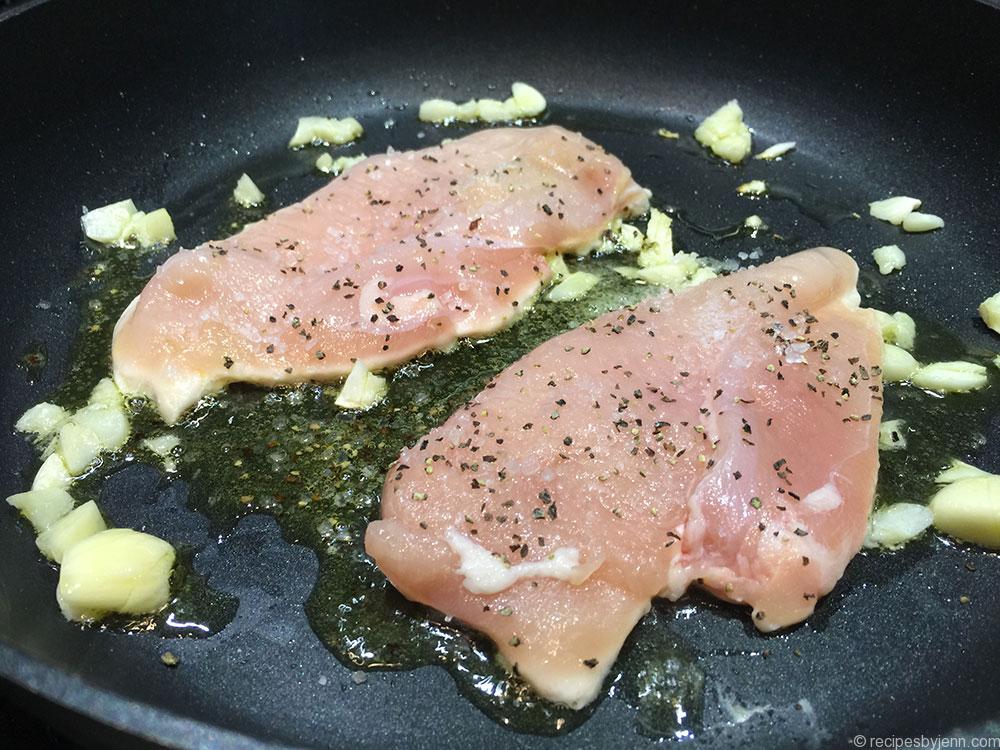 Flip the chicken halfway and then set aside. (Just look at that garlic!!)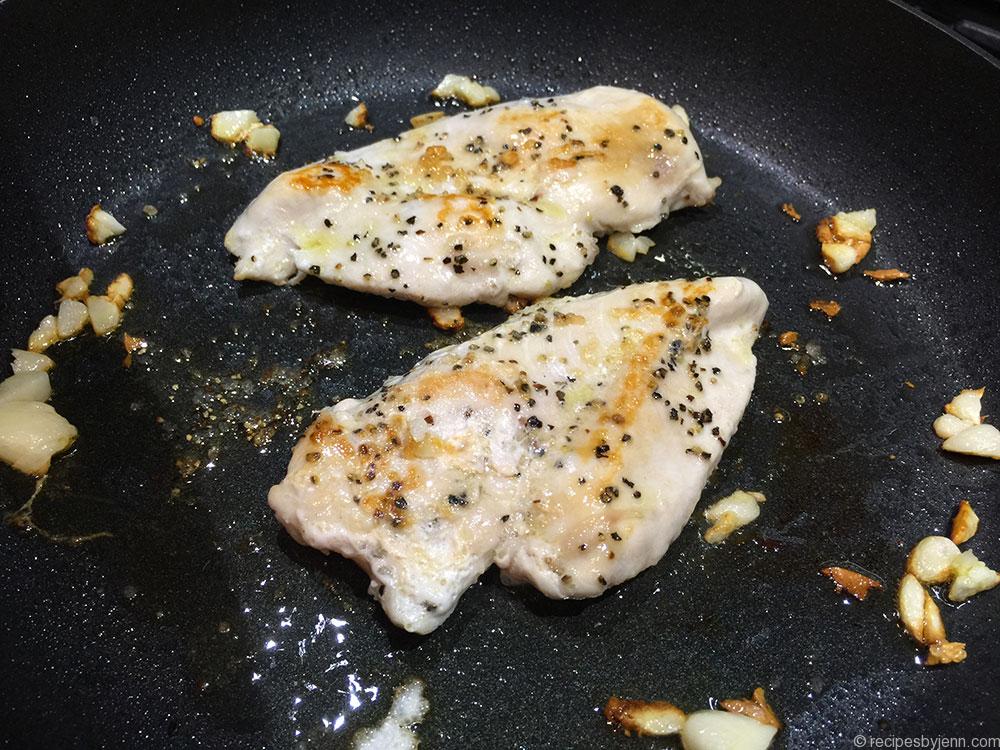 While the chicken is cooking, clean and slice your mushrooms...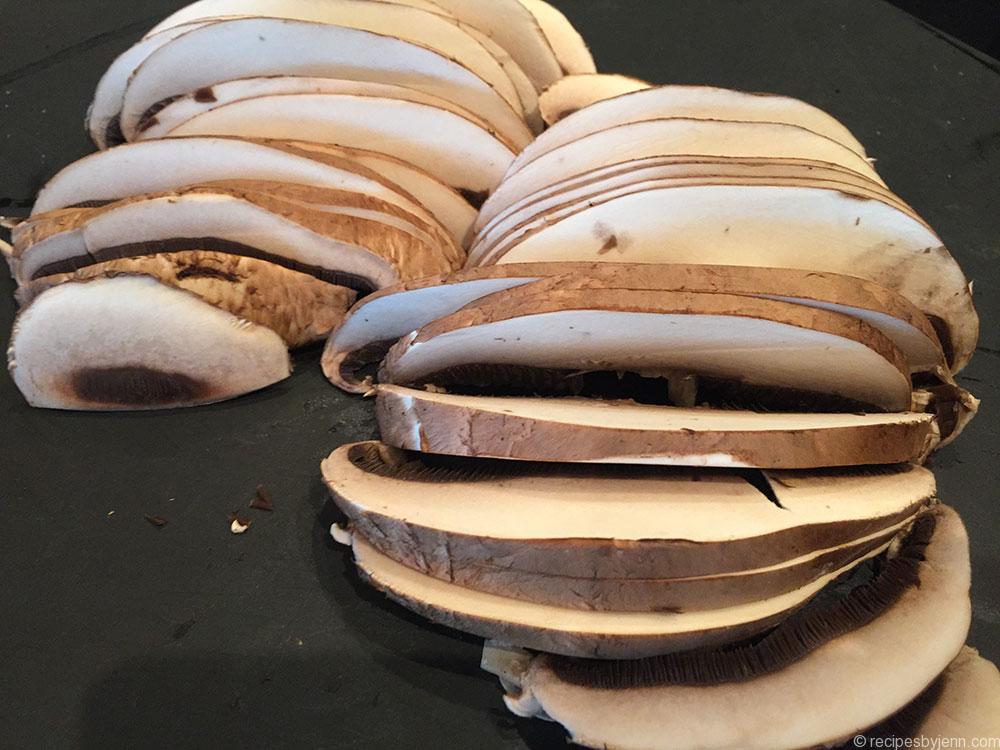 Same thing with your tomatoes...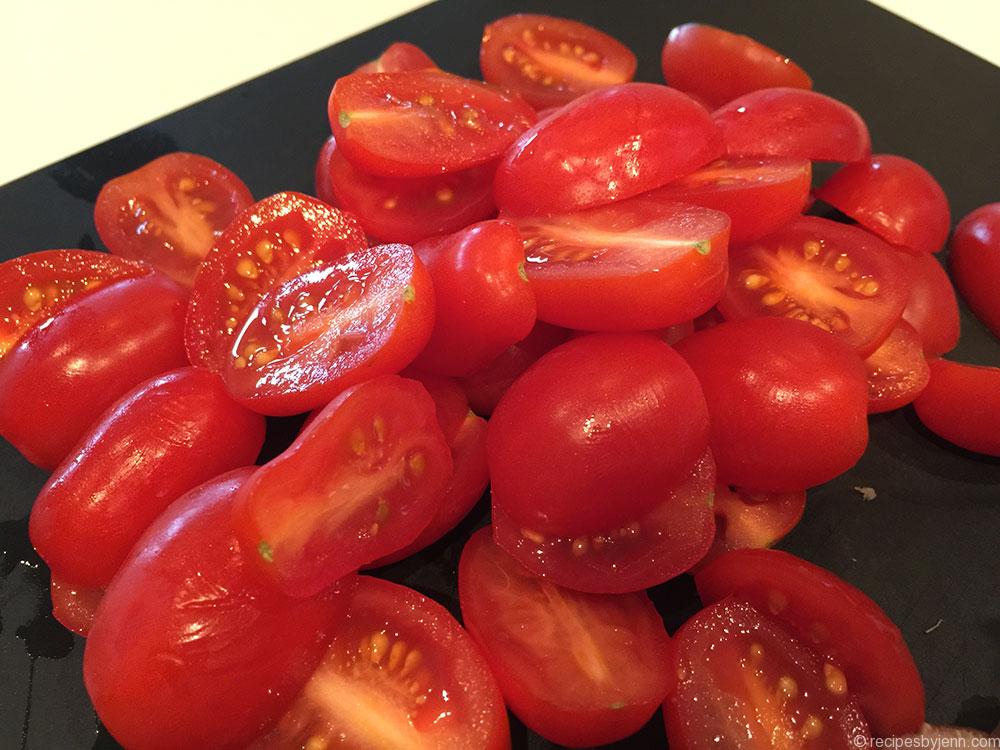 Add them both to the pan once your chicken has been removed and fry up just a little until the mushrooms start releasing their juices. Then add in your balsamic vinegar and continue cooking down.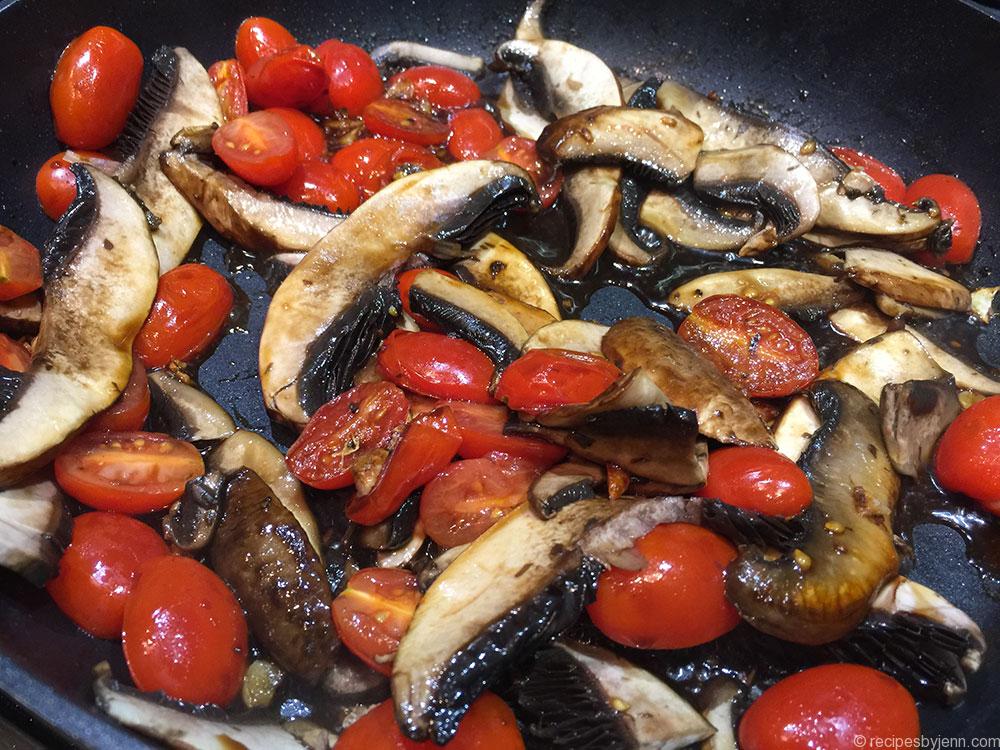 After about 5-10 minutes, the vinegar will have reduced slightly and your mushrooms will be good and soft. Add in your freshly chopped basil and continue to cook for just a couple of minutes (not long though after you add the basil!).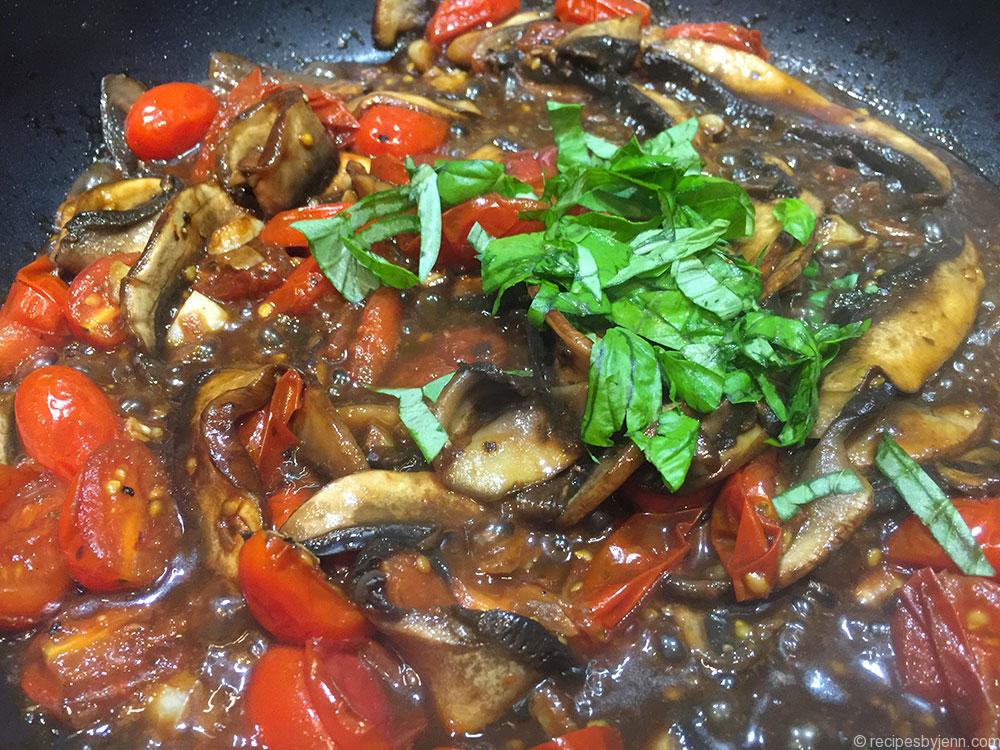 Just look at how yummy that vinegar looks!!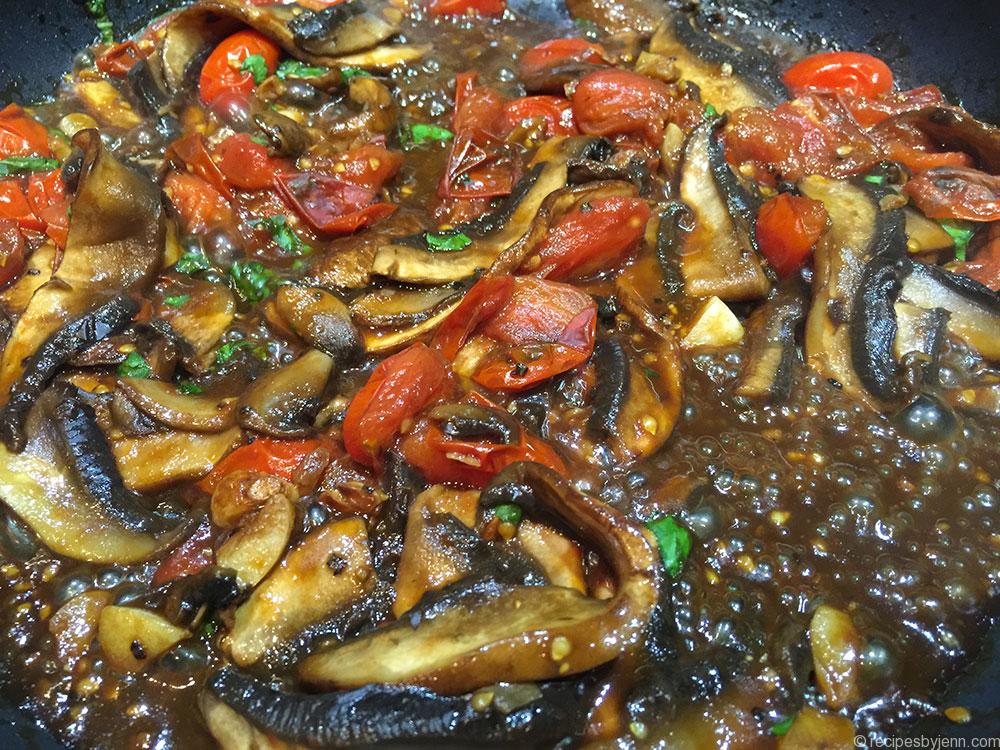 Place your arugula onto plates, divide the mushroom/tomato mix evenly over both and top with a piece of chicken. Then, just for fun, add some shaved parmesan. Yummmmm!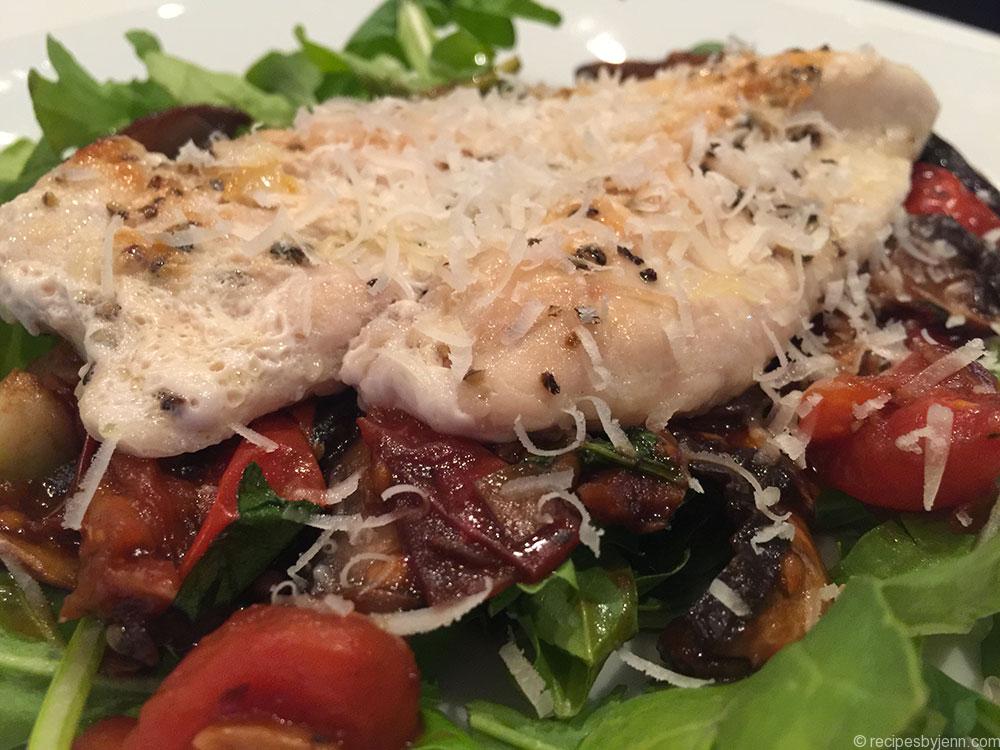 Enjoy!
---
When you make your own, don't forget to take a photo and share it online at Facebook, Twitter or Instagram with the hashtag #recipesbyjenn and by tagging @recipesbyjenn. That way, I can see your photos and share them with all my friends! Plus, I get to feature them on this site along with all my other photos!
Instructions
Smash and coarsely chop the garlic; add to heated pan with evoo and chicken breasts - sprinkling with salt and pepper. Flip the chicken half way and remove once cooked through.
Add to the same pan the sliced mushrooms and tomatoes and allow to cook until the mushrooms start to release their juices. Add balsamic vinegar and continue cooking for approx 5-10 minutes or until mushrooms are quite soft and the vinegar has reduced by half.
Add freshly chopped basil and serve on a plate with arugula and freshly grated Parmesan cheese.
(Green: 3, Red = 1, Tsp = 1)
I am including the container values for my own reference (and anyone else wanting to do this)... but keep in mind, these are my recipes and not provided by or approved by or associated with, or anything else 'with', the 21 Day Fix. In fact, it may be a little generous at times, or ingredients may be different based on what we like to eat. It's meant to be a guide.
Add to Favourites