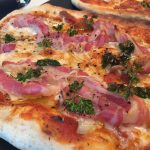 Prep Time: 5 minutes
Cook Time: 5-6 minutes
Print
Pancetta Flatbread
So... today was my flatbread day! I did a (very) quick batch of rustic pizza dough, and within literally minutes, we were enjoying the most amazing flatbread!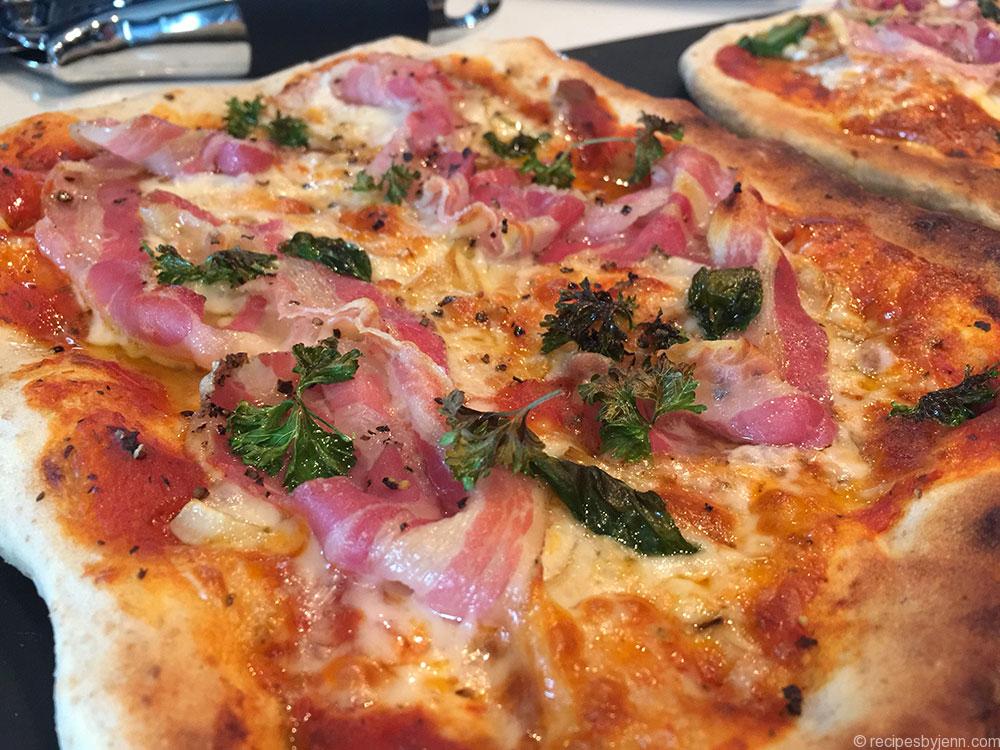 Visit the dough recipe page for instructions and photos to make this yummy little ball of fluff.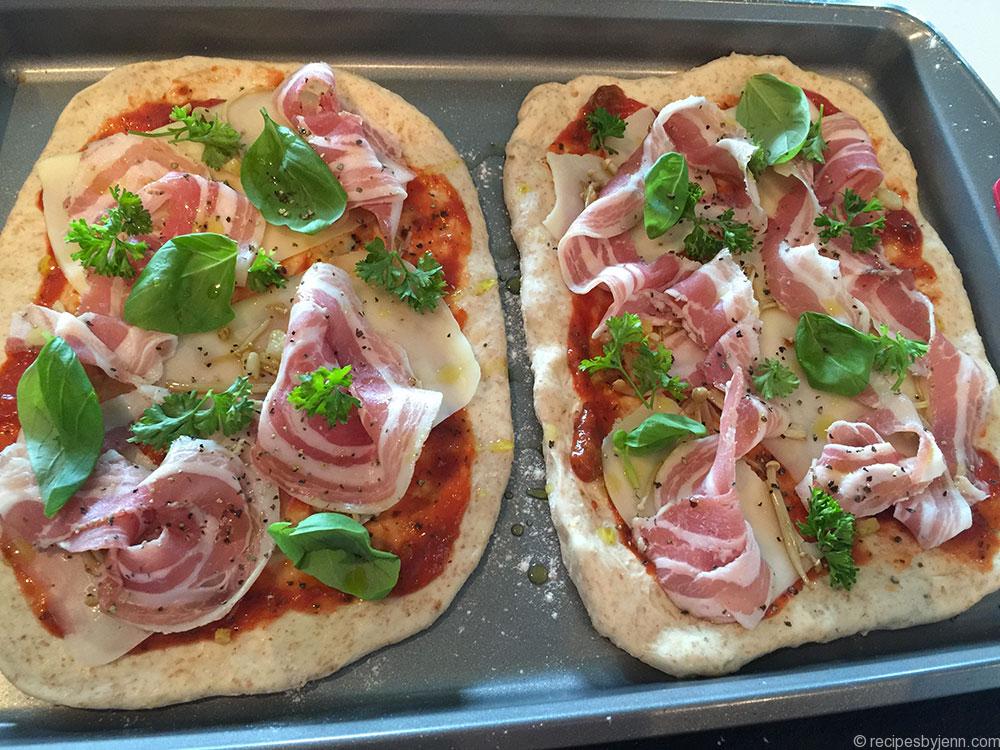 Careful with the toppings, though... It's a very thin flatbread and you don't need a lot. Just a tiny amount of everything and you're good to go!
Pop it in the oven on the top rack and wait 5-6 minutes. That's it! Talk about a quick lunch (once the dough is made, of course).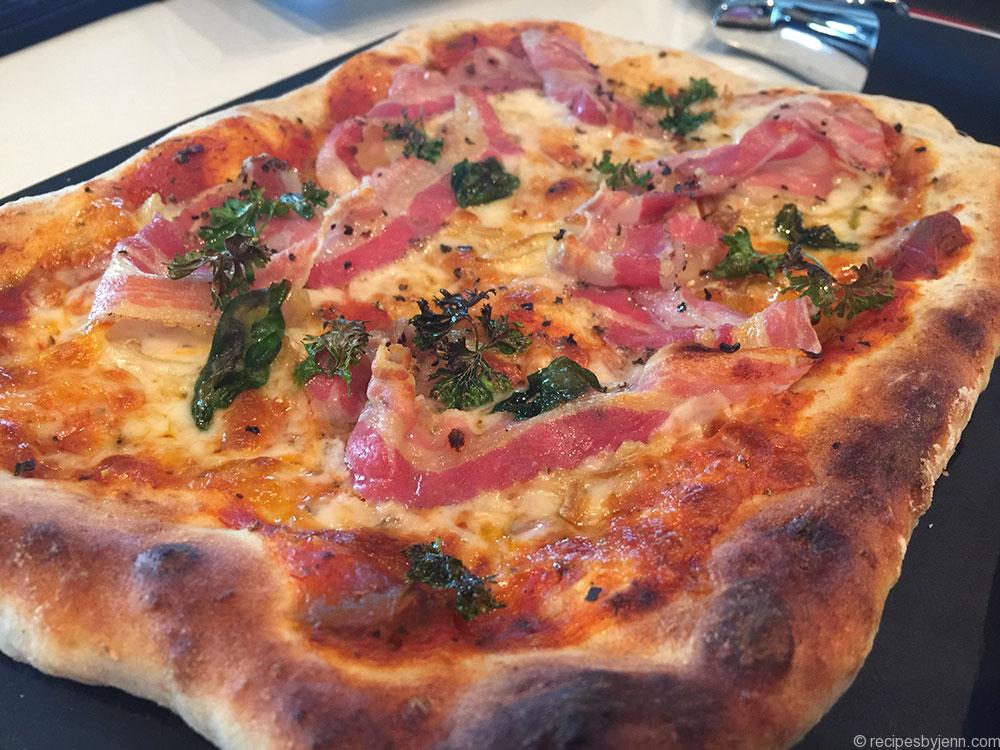 Take a look! See how nice and browned the edges are?! You can get a crisper bottom too if you use a heated pizza stone, but mine was lost in the move, so cookie sheet it was. I did notice that mine cooked a little uneven - might be a good idea to turn the pan at the half-way mark... but, I mean, really, who cares? lol. It's flatbread time!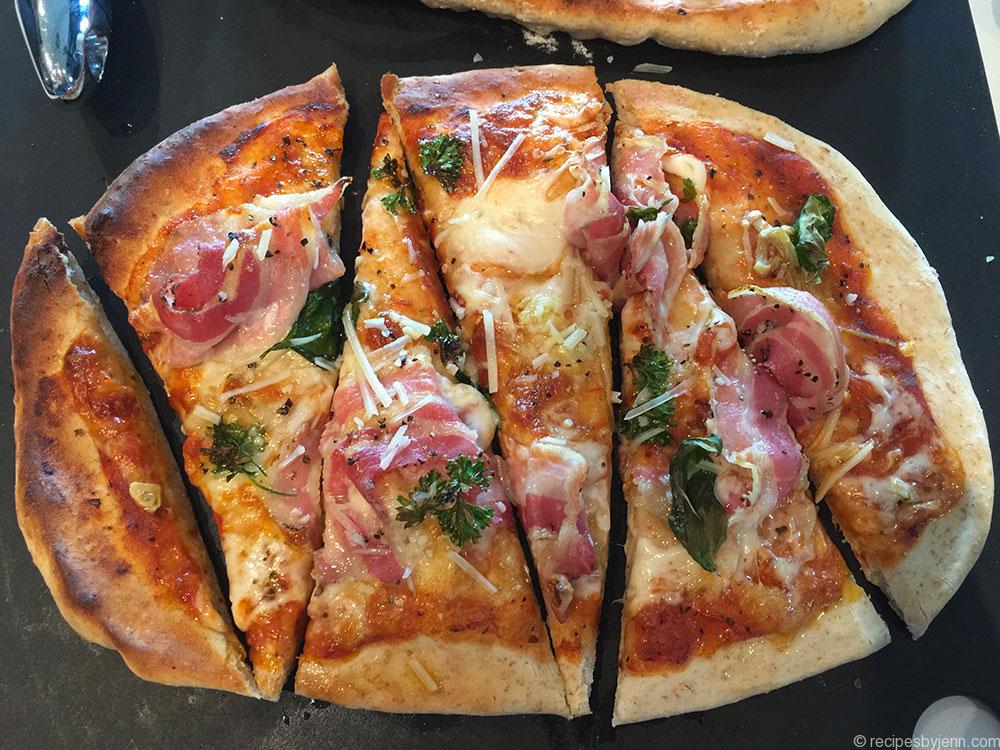 I didn't really use quantities on this one - it's all about how much you like - but you can see from the photos that we are not using much. Maybe 1 tbs sauce each, a couple pieces of pancetta, a small amount of thinly slices cheese, sprinkles of herbs and seasonings... nothing to complex :o)
Instructions
Preheat your oven to 450 degrees
In your KitchenAid mixer, make your rustic pizza dough (if you don't already have some made). If you have some made and frozen, allow it to thaw for 30 minutes or so on the counter before you start rolling it out.
Sprinkle the counter with a little bit of flour, take one piece of dough and press down on it with your fingers until you have ½" thick circle or oval.
Place your dough onto our cookie sheet, or if your stone was heating in the oven you can remove it and place it onto a heat resistant pad on your counter
Place your desired toppings on the dough and place your cookie sheet or stone on the top rack in your oven for 5-6 minutes. When you first do this, keep an eye on your dough - you don't want to let it get burned... just crispy.
Add to Favourites