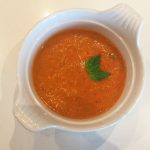 Yield: 10
Prep Time: 60 minutes
Cook Time: 1h 30 min
Print
Tomato Basil Soup
A delicious and easy-to-make soup; perfect on its own or with a delicious sandwich for dipping.
Instructions
Preheat oven to 400 degree
In a large bowl, toss the tomatoes, 1/4 cup of olive oil, salt and pepper. Spread the tomatoes in a single layer on the baking sheet; roast for 45 minutes.
While the tomatoes are roasting, in a large stockpot, heat the olive oil on medium heat. Add onion and garlic and cook until the onion starts to brown; add the remainder of the soup base ingredients. Simmer uncovered.
Add the roasted tomatoes from the oven, including the juices from the pan; simmer (uncovered) on low for 40 minutes.
Once the soup has finished, use a small hand blender to puree the soup. Be careful! It is possible for the hot soup to splatter. Take your time. If you have to lift the blender out of the soup, stop blending first.
Add the pureed soup back to the pot and add the remaining ingredients, adjusting the sea salt if necessary to your taste. Serve on its own, or with a pumpernickle grilled cheese, as shown
(Green = 2, Red = 0.25, Tsp = 1)
I am including the container values for my own reference (and anyone else wanting to do this)... but keep in mind, these are my recipes and not provided by or approved by or associated with, or anything else 'with', the 21 Day Fix. In fact, it may be a little generous at times, or ingredients may be different based on what we like to eat. It's meant to be a guide.
Add to Favourites