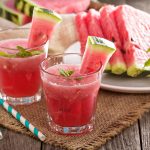 Watermelon Lemonade
Mmmmmmm watermelon lemonade! What more needs to be said? Watermelon to hydrate you. Lemons to detox you.
Instructions
Start by running water through a juicer. You will need 4 cups of it, which is about 1/2 large watermelon.
Take the water melon and run it through a strainer into a large bowl to remove any pulp. Add this to a juice jug.
Juice your lemons.
Add water and Splenda to lemon juice and stir until dissolved.
Add to watermelon juice with slices of lemons to garnish.
Add sprigs of mint when you serve if you like, along with crushed or cubed ice.
Add to Favourites