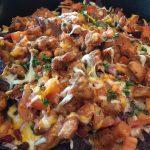 Prep Time: 15 minutes
Cook Time: 15 minutes
Print
BBQ Chicken Nachos
This is an amazing twist on nachos, and an instant favourite at our house. The key for us is using our own BBQ sauce, which I generally keep stocked in the fridge anyway.
Instructions
Heat the oil in a skillet and add chicken and all spices. Cook for 2-3 minutes.
Add BBQ Sauce (here's the recipe to make your own, which is our favourite!) and allow it to simmer for 5 minutes and all of the chicken is cooked.
In a cast iron skillet or cookie sheet, layer chips, a small amount of cheese, avocado, bacon bits, chicken, the remaining cheese and sprinkle with parsley.
Bake at 350 for approx 15 minutes or until all of the cheese is melted. Serve with Avocado Ranch or sour cream.
Add to Favourites