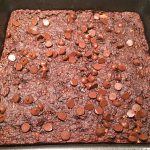 Yield: 1 9x9
Prep Time: 30 minutes
Cook Time: 60 minutes
Print
Zucchini Brownies
Brownies (and zucchini)… That's about all you need to know about this recipe before running right out to give it a try! Then convince yourself that it's not so evil to eat them all… after all – it's veggies! Original recipe from www.livethesmartway.com
Instructions
Preheat oven to 350 degrees F. Line a baking pan with parchment paper or coconut oil.
Place oats in blender or food processor and process until finely ground (like a flour)
In a large bowl cream together nut butter, applesauce, maple syrup and vanilla until smooth.
Add in zucchini, cocoa powder, ground oats, baking soda, and sea salt; mix.
Gently fold in 1/2 cup of chocolate chips.
Pour batter into prepared baking pan and sprinkle remaining chocolate chips over the top. Bake for 30 minutes. Allow to cool before cutting.
Add to Favourites