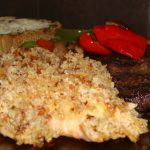 Baked Macaroni & Cheese
Instructions
Preheat the oven to 350°F. Coat an 11" x 7" baking dish with cooking spray.
Bring a medium pot of water to a boil. Once boiled, add sea salt. Add the pasta and cook according to package directions; drain and rinse under cold water to stop the cooking, then drain again. Return to the pot.
Meanwhile, place the bread into the bowl of a food processor and pulse into bread crumbs.
Melt 1 tablespoon of the butter in a medium saucepan over medium heat. Add the onion and garlic and cook until softened, about 6 to 7 minutes.
Meanwhile, whisk together the milk, flour, mustard, and salt. Pour into the saucepan and cook, whisking, until the mixture begins to thicken, about 3 to 4 minutes.
Stir in the mozzarella, cheddar, and romano and cook until melted, about 2 minutes. Pour over the macaroni, add the tomatoes, and mix well to coat. Immediately pour into the prepared baking dish.
Melt the remaining 2 tablespoons butter in a medium nonstick skillet over medium heat. Add the bread crumbs and cook, stirring, until they're coated with the butter, about 1 minute. Sprinkle over the macaroni and cheese.
Bake until bubbly and the top is golden, about 20 to 22 minutes.
Add to Favourites