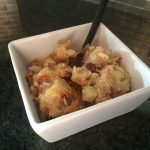 Yield: 9 x 13
Cook Time: 60 minutes
Print
Bread Pudding
Taste every flavour! Having been raised on the East Coast, bread pudding was a staple… but like most foods found on the East Coast, they can run a little plain.
Of course, as we experience more foods, our palate matures, and demands more from us in the way of wow-factor. This recipe does not disappoint. I could eat this all day long!
The sauce is to DIE for! Again, a sugar addict's best friend... but still!
Instructions
MAKE THE BREAD PUDDING: Preheat oven to 350°.
Brush melted butter on one side of French bread slices, and place bread, buttered sides up, on a baking sheet. Bake bread at 350° for 10 minutes or until lightly toasted. Cut bread into 1/2-inch cubes, and set aside.
Sautee apples and set aside
Combine 1% milk and next 4 ingredients (1% milk through eggs) in a large bowl; stir well with a whisk.
Add bread cubes, apples, pecans and raisins, tossing gently to moisten; let stand 15 minutes.
Spoon bread mixture into a 13 x 9-inch baking dish coated with cooking spray. Bake at 350° for 35 minutes or until set
MAKE THE CARAMEL SAUCE: Combine sugar and water in a small heavy saucepan over medium-high heat; cook until sugar dissolves, stirring constantly.
Cook an additional 15 minutes (do not stir). Remove from heat.
Carefully add butter and cream cheese, stirring constantly with a whisk (mixture will be hot and bubble vigorously). Cool slightly, and stir in whiskey and milk.
Modified from original recipe www.myrecipes.com
Add to Favourites