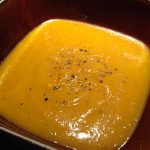 Prep Time: 60 minutes
Cook Time: 45 minutes
Print
Butternut Squash Soup
A warm, hearty and delicious soup for those blustery Fall and Winter days. Very thick… great to dip a warmed bun into as well.
Instructions
Prep the squash: pierce the skin with a fork and bake whole in the oven on 375 for one hour; slice lengthwise and scoop out the seeds; skin will peel off easily
Melt the butter in a large pot, and cook the onion, celery, carrot, potatoes for 5 minutes, or until lightly browned; add in the roasted squash and blend
Add in rum and cook for 1 minute
Pour in ONLY enough of the chicken stock to cover vegetables. Bring to a boil. Reduce heat to low, cover pot, and simmer 40 minutes, or until all vegetables are tender
Transfer the soup to a blender, and blend until smooth. Return to pot, and mix in any remaining stock to attain desired consistency.
Season with cinnamon, nutmeg, salt and pepper.
Add to Favourites