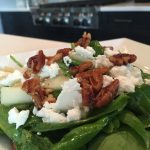 Yield: 2
Prep Time: 30 minutes
Print
Candied Pecan & Goat Cheese Salad
HUGE thanks to my girlfriend, Tanisha, for this recipe! I had it 4 times in the first week and a half!!! No question – my FAVOURITE recipe!
Instructions
Prepare the pecans: add syrup, coconut oil and pecans to a small sauce pan and cook, stirring frequently, for 5 minutes - careful not to burn! Remove the nuts from the liquid using a slotted spoon and place on foil wrap to cool.
Prepare the dressing: add all ingredients together; refrigerate.
Assemble salad ingredients, toss with 4 tbs of the dressing and sprinkle with chopped candies pecans. (Keep the remaining dressing in the cupboard and use up within a couple of days if you like.)
(Green = 2, Purple = 1, Blue = 1, Orange = 1, Tsp = 2)
I am including the container values for my own reference (and anyone else wanting to do this)... but keep in mind, these are my recipes and not provided by or approved by or associated with, or anything else 'with', the 21 Day Fix. In fact, it may be a little generous at times, or ingredients may be different based on what we like to eat. It's meant to be a guide.
Add to Favourites