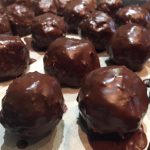 Chocolate Covered Cherries
It's getting close to Christmas again, which means I get to make my chocolate covered cherries!! Since I'm only allowed to make these once a year ('cause, well, I eat them all), I keep forgetting to take good photos - but I remembered this year!
This is one of the very few recipes that have carried on with me since my childhood. I remember I didn't appreciate them as much when I was younger, and yet now, well... You know... That's why "only Christmas" ;o)
Enjoy!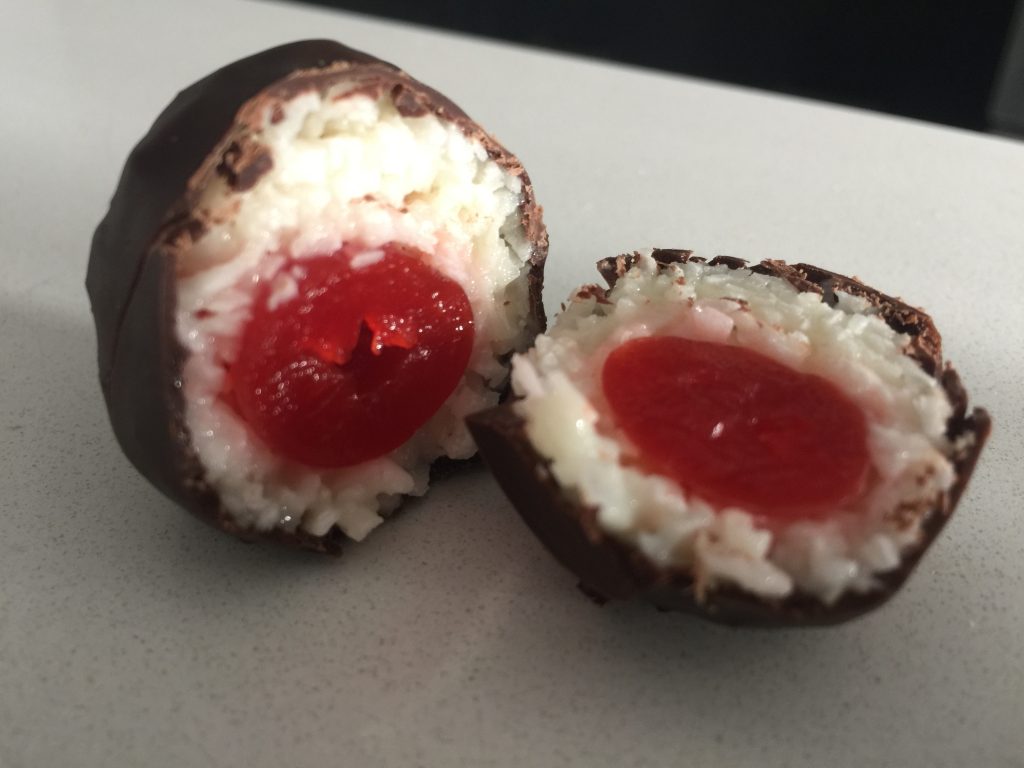 Start by placing 3.5 cp coconut into a bowl and about 3/4 can of the condensed milk. You are going to mix all of this together, and you're trying to aim for a certain consistency. You want the coconut to stick together, but you want it to be able to hold its shape into a ball when you roll it. So after the first bit of milk+coconut, keep adding a little bit of each until you get it perfect. I use the full 4 cp coconut to 1 can.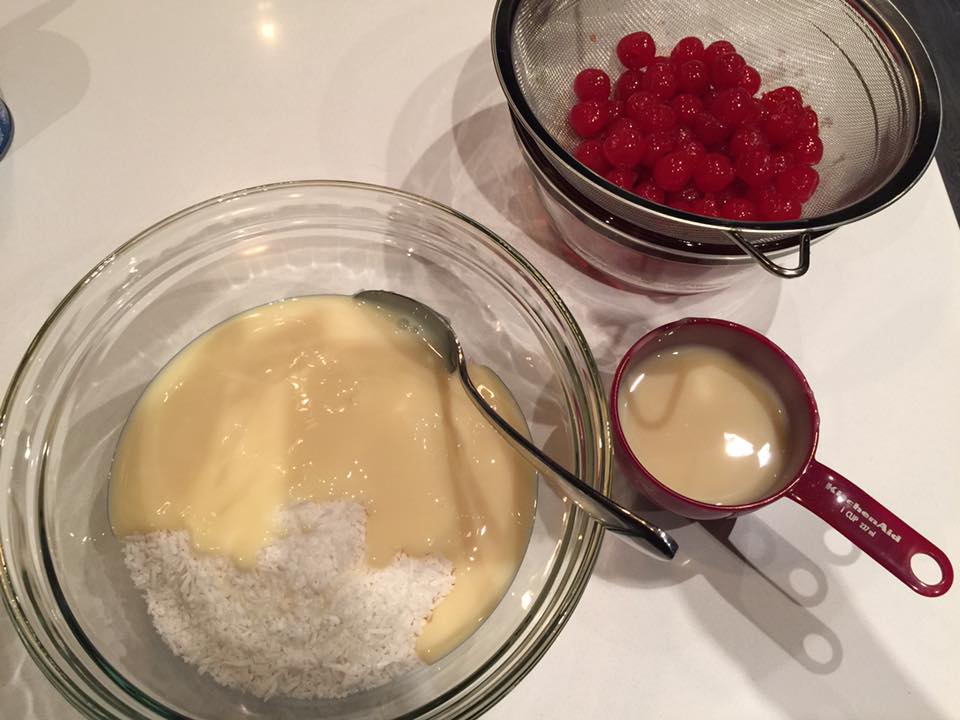 Once this is well mixed together, put it in the fridge for about 15 minutes to get a little firm and chilled.
While that's happening, have your cherries draining. You can then lay them out onto a paper towel to dry even more while you are rolling them. Drying is key or else your cherries won't stay together very well.
Take the coconut blend out of the fridge and using about a tbs or so on the tips of your moistened fingers, pressing it down a little with your thumb (you may want to keep a little side bowl of water handy to keep your fingers from getting sticky - sticky fingers means you will not be able to roll the coconut).
Place a sweet little cherry right in the middle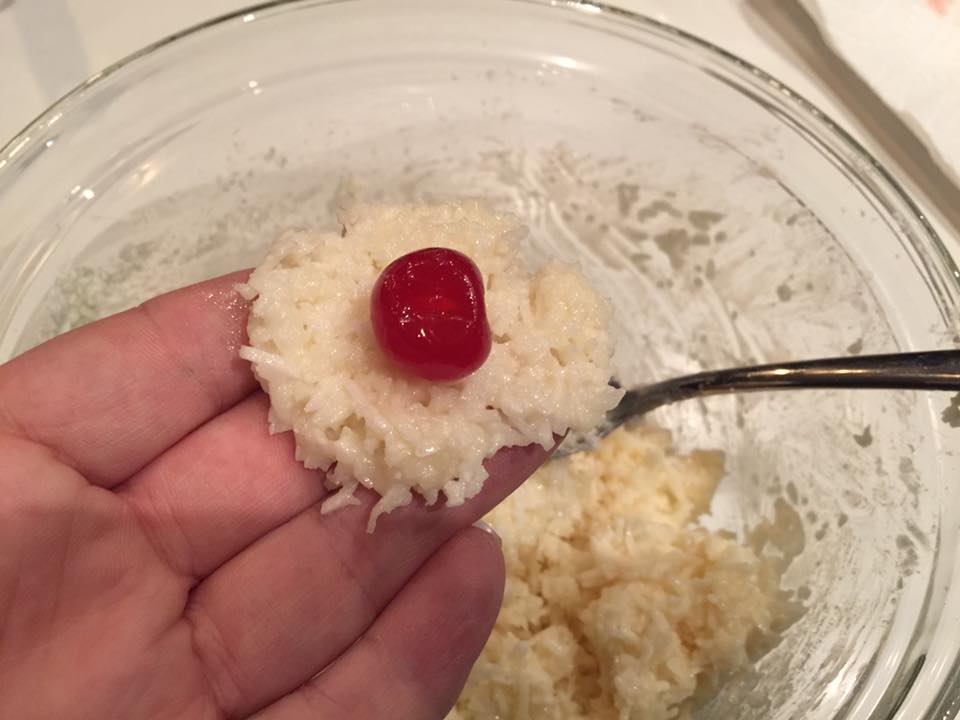 Next, gently push/fold the coconut around the cherry. This may be a little tricky at first. if you find that the coconut is sticking to your fingers instead of the cherry, then wet your hands from the bowl of water.
Roll them into bite-sized balls (not too much coconut or they will be too large), place them on a cookie sheet with parchment paper, and place them in the freezer for a couple of hours.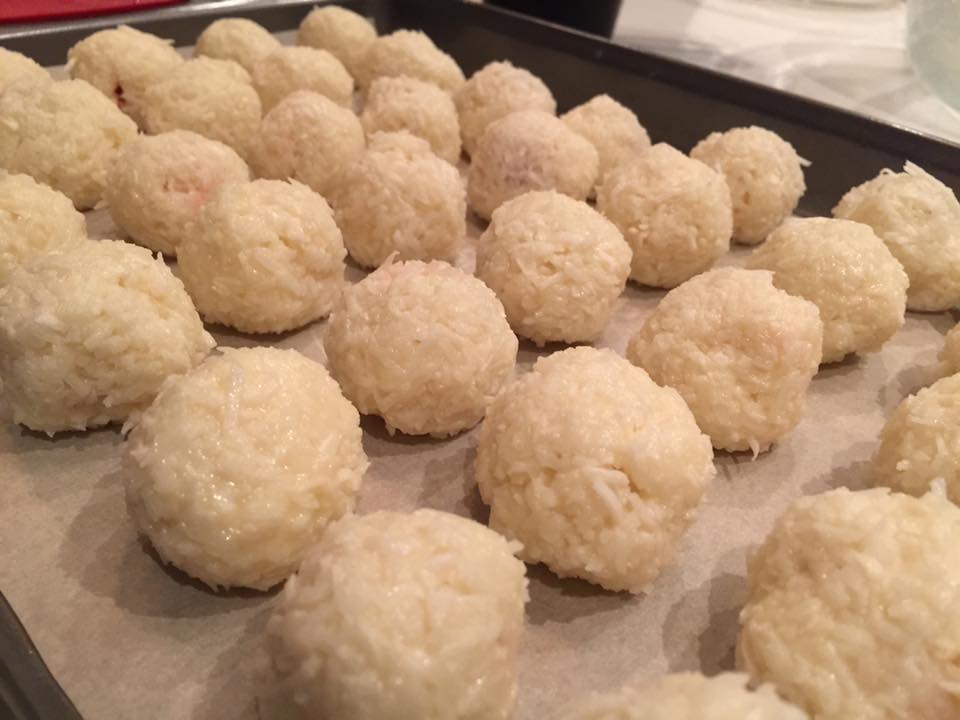 Once they are chilled, take them out of the freezer and you can (using moist hands) re-roll some of them if they have gone a little soft.
Fill a medium saucepan about halfway with water, and place a stainless steel bowl over top (be carefully where the lid vent in on your pot - the boiling water will create a hot steam vent there). Place your chocolate chips and your parowax into the bowl, and as the boiling water heats the bowl, these will melt together.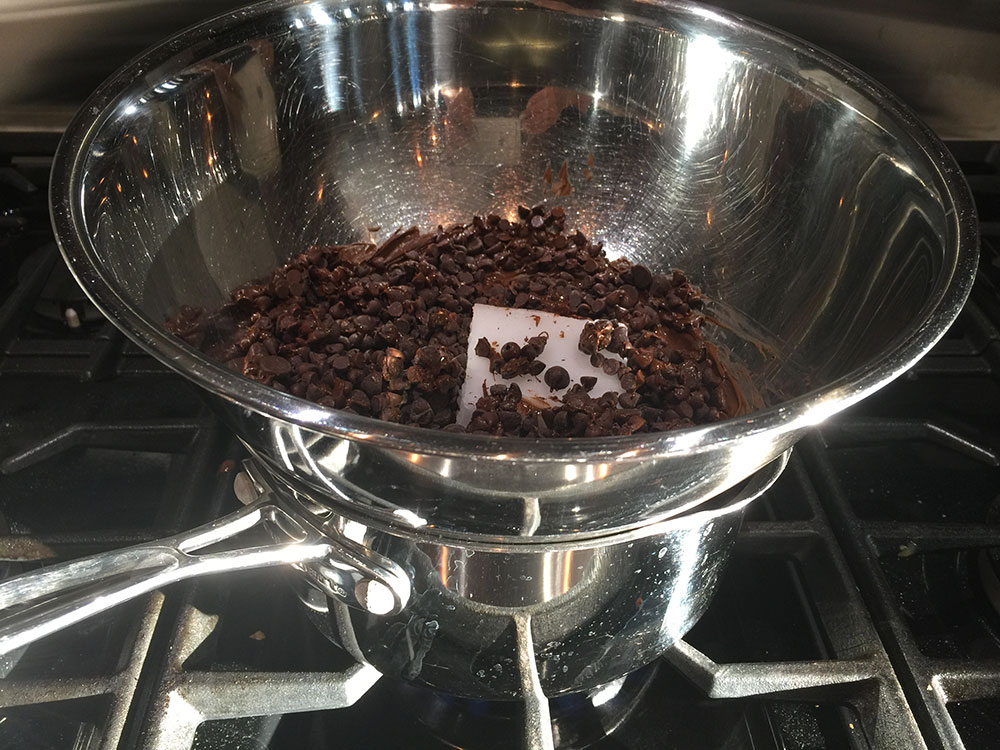 Once completely melted (make sure all of the parowax is melted), you can then begin rolling each cookie in the chocolate.
Roll the cherries in the chocolate and place them back on the parchment paper, and then into the fridge or freezer to set. Keep these chilled until you are ready to serve them.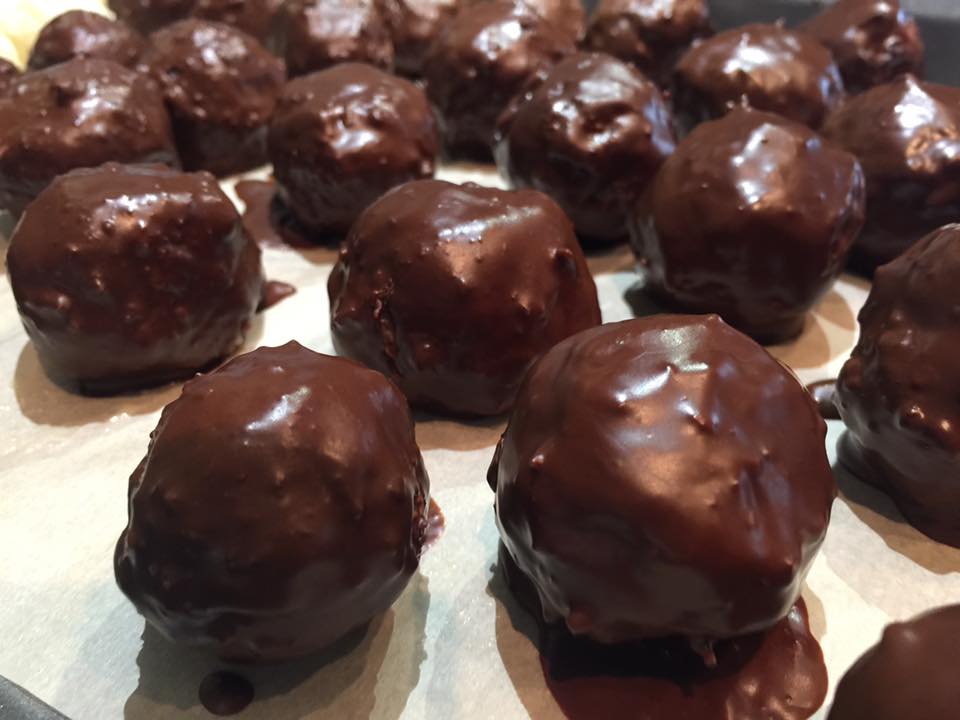 ---
When you make your own, don't forget to take a photo and share it online at Facebook, Twitter or Instagram with the hashtag #recipesbyjenn and by tagging @recipesbyjenn. That way, I can see your photos and share them with all my friends! Plus, I get to feature them on this site along with all my other photos!
Instructions
Mix together milk and coconut; note - yoolu do not want the mixture to bee to runny, so add less milk and set mixture in the fridge to set a bit before rolling
Roll small amount around individual cherries
Put into fridge to set; you may have to re-roll balls once hey have cooled
Melt wax on low and add chocolate chips until fully melted
Roll cherries in chocolate and set on wax paper to cool
Serve chilled
Add to Favourites