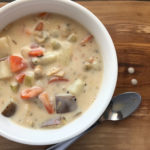 Clam Chowder
Ok – now this is one that you can set your taste buds on overdrive for! I'll start by saying that I never would have even TRIED clam chowder if I wasn't trying to seem fancy at a restaurant one day with a certain boy… It was good… He happened to love it! And since I planned on keeping him around for a while, I was gonna need to learn how to make it. Let's just say that this one turned out even better than any restaurant one we've had, and it may even be one of my signatures. I think we have this in the freezer for quick meals at all times! It never gets old!
This recipe is made as a double batch, and so, at approximately 1.5cp per serving (which is LOTS), we typically get about 12 portions, or 6 meals for the two of us. Portion it out into plastic 750ml Ziplock containers and simply thaw and reheat when you have a hankerin'.
HINT: Use a very large skillet for this one… and timing is everything so read in advance.
Instructions
Start by chopping up your bacon and putting it in a pan to cook.
Chop your potatoes and set them into the steamer for 25 minutes (I like to steam mine so they don't get too soggy, but you can boil them as well - just don't let them get too soft... you should be able to put a fork in them, but they should not fall apart)
Once the bacon is cooked (approx 10-15 minutes) add the onion, celery, carrot and tomatoes and saute while the potatoes continue to steam separately
Once the potatoes are soft enough to put a fork through, add them to the bacon and veggies; toss gently and put the heat on low, stirring occasionally – you do not want the potatoes to break apart too much but this process makes a sort of hash of the veggies, which releases the starch, and thickens the soup (makes up for my removing the heavy cream found in most chowders); you will notice the colours start to blend in nicely from the tomatoes as they break down... hmmm
Melt butter in a large heavy pot on low-medium heat. Remove from heat and add flour, whisking quickly to blend thoroughly.
Return to the heat and add cold milk a bit at a time, whisking fast until smooth.  – DON'T ADD TOO MUCH MILK AT ONCE or you will not be able to get rid of the clumps
Add whipping cream and continue whisking together from time to time while the milk mixture slowly starts to thicken
Add all spices, clam juice, bacon and the sauteed vegetables.
Stir together and start by adding 2 teaspoons of sea salt. Let the salt sit for a couple of minutes and taste. You want it to reach that point where you are on the edge of too salty – but not OVER the edge. Without the right amount of salt, the soup will fall flat and taste bland, or even floury. (Remember to allow the soup to sit for a few minutes before tasting after each salt adjustment… it takes a few minutes for the flavour to be affected)
Once you have reached the desired taste, add clams and stir gently. Allow to sit on low heat or simmer for 5-10 minutes, remembering to stir to avoid sticking to the bottom.
Serve immediately, or leave in the pot on the stove for a while to allow the flavour to really soak through the vegetables.
Add to Favourites