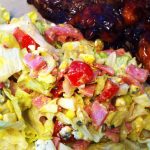 Prep Time: 20 minutes minutes
Cook Time: 30 minutes minutes
Print
Cobb Salad
Amazing recipe from Chuck's Day Off, the Food Network! Wish I was sitting in his kitchen on Saturday mornings! Wow, that man can cook!
Instructions
In a large frying pan over medium heat, fry the bacon about 10 minutes or until crispy; transfer to paper towel to drain. Set aside.
Arrange the lettuce, watercress, eggs, bacon, blue cheese, avocados and tomatoes in rows on a platter.
Dressing: In a small bowl, using a fork, mix in the egg yolks and Dijon mustard to make a paste. Whisk in the red wine vinegar, Worcestershire sauce and maple syrup. While whisking, slowly drizzle in olive oil to form a thick dressing. Add water to loosen it up if necessary. Season with salt and pepper.
Pour the dressing over the salad just before serving.
Add to Favourites