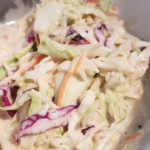 Sweet Coleslaw
A great mix of sweet and tart… a great addition to these pulled pork sandwiches or even these delicious tangy BBQ ones!
I love this coleslaw for sandwiches, or even to go with a white fish. It's very versatile. The dressing goes together in a heart beat, and you can either go the long way and assemble all of your own ingredients, or instead, cheat (lol) and buy a ready-made bag of coleslaw veggies from your grocer.
The trick is to add the dressing to the veggies a few hours ahead of time. The vinegar softens the veggies just enough so that everything blends together the way it's supposed to.
One thing I've noticed, as the veggies break down a little, the water from them, mixed with the dressing, get's quite "soupy" in the end. Just drain with a slotted spoon when you pile it on your sandwiches. And remember to napkins ;o)
Instructions
Put all of your dressing ingredients together and mix well.
Pour it over all of your salad ingredients (whether assembled yourself, or store-bought); put a lid on the bowl and shake well, coating everything evenly
Refrigerate for a few hours before using; drain with a slotted spoon when piling on sandwiches
Modified from the The Food Network, Emeril Lagasse
Add to Favourites