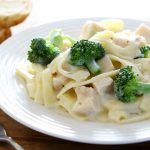 Creamy Alfredo Pasta
This is your super easy, no fail alfredo sauce! No joke! It's hard to mess this one up.
Here's the trick: it's all in the heat and the timing. Keep your pan on low and start by adding the butter to the warm pan. Next, add in your room-temperature cream - whisk it steadily until the butter has melted and mixed evenly with the cream.
Worst case scenario, your pan is too hot, or your butter and cream didn't mix well. If this happens, you'll notice that your sauce separates. No big deal.. eat it all up, and try again tomorrow!!
Instructions
Heat a pan on low heat and add olive oil.
Add butter to hot oil. !!! Keep a splatter screen close just in case !!!
After about 30 seconds, quickly add the cream and whisk together with the butter until the butter has fully melted and blended with the cream.
And chicken stock and heat on low until it starts to bubble just a litte.
Add mascarpone cheese and stir until completed melted
Add parmesan cheese until completely melted
Add salt and pepper to taste
Fold the parsley into the sauce to mix and add the pasta to the hot mix; sprinkle additional parsley for garnish
Add to Favourites