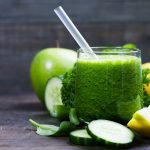 Daily Dose of Greens
I'm not sure where this recipe came from, but it's fabulous! The ingredients below make enough for 4 servings… today's and for the next 3 days. I wouldn't leave it much past that. Use small Mason jars to portion each day.
Ingredients
Instructions
Run everything through your juicer and enjoy! You might need a couple of days to get used to the taste (it was the ginger for me), but once you do, just think of all the great things you are packing into your little body with this drink!
Add to Favourites