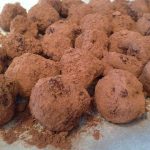 Dark Chocolate Truffles
Instructions
In a saucepan, bring the cream just to a simmer over medium-low to low heat. Pour the cream over the chocolate in a bowl and cover with plastic wrap. Let stand about 10 minutes to melt the chocolate.
Add the vanilla and stir until smooth. Set aside to cool to room temperature, 30 minutes to 1 hour.
Then beat the chocolate at medium speed, using an electric mixer, until it is thick and light colored. If the chocolate has cooled enough, it will be ready to form truffles right away. If the chocolate is still too soft to hold its shape when rolled in a ball, spread over the bottom of a baking dish and smooth the top. Refrigerate until firmed, but still scoopable, up to 2 hours.
** Check often so that it doesn't get too hard **
Pour the cocoa powder onto a deep plate or shallow bowl. Use a spoon to scoop out balls of chocolate and gently roll into a ball - around <1" thick (these are very rich so they do not have to be big). Place them on the plate with the cocoa powder and roll between 2 forks to completely coat with the cocoa powder. Then use the forks to carefully transfer them to a baking sheet lined with parchment or waxed paper.
If making the truffles a day or two ahead of time, let them stand at room temperature for at least 1 hour before serving.
Add to Favourites